A Brief Look
The Desperados III demo is up on Steam and GoG as we speak. This time, developed by Mimimi, the game promises to deliver a polished and engaging real-time tactics experience. So, of course, with much anticipation, I fired it up. The demo spans chapter one of the full game, offering a short tutorial mission, a second mission to stop a train robbery and a third, where trouble follows protagonist Cooper to the dusty town of Flagstone. You get a good feel for the squad you'll play through the game with, as you're introduced to Doc McCoy in the first full mission and Hector in the second – each coming equipped with their own unique arsenal. 
For example, the good Doctor can snipe enemies with a customized revolver and lure enemies with his medical bag, which when opened, emits a blinding gas, giving you a window to eliminate the enemy with a well-timed lethal injection. Doc McCoy can also heal squad members with bandages, though I didn't get the opportunity to try this out. Hector has an ax for close range encounters and can set a huge bear trap, called Bianca. You can lure enemies into the trap with a whistle, which means you can set the trap in a secluded location for an extra stealthy execution.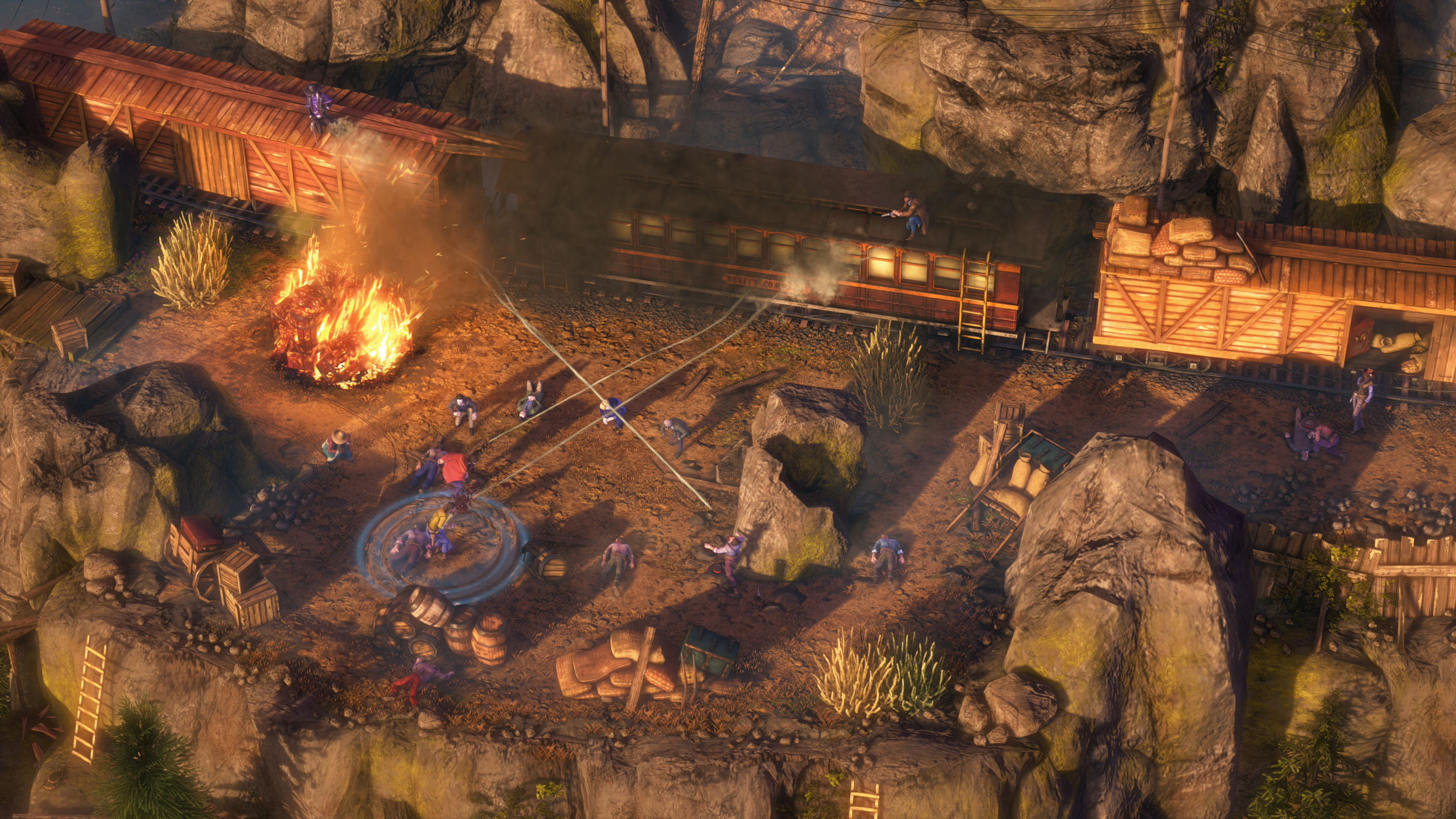 The tutorial was short and sweet and got the point across, which made me feel adequately prepared for the challenge to come – and my, oh my, these levels are challenging on a trickier difficulty. There are optional objectives and challenges to complete and I don't even want to know how good at this game you would have to be to accomplish them – for example, completing the train mission in less than 5 minutes 30 seconds (It took me about an hour)! 
That said, the game allows you to enter "Showdown Mode" by hitting shift, which pauses the game on lower difficulties and allows you to execute numerous actions simultaneously – wise usage of Showdown Mode will be critical for success in the main game, I'm sure. Another feature I really enjoyed, which the game actively encourages you to use, is the quick save/quick load feature. Pressing F5 immediately saves the game. Do this before committing to any plan of attack and if it doesn't work out, simply hit F8 to reload and try a different approach. It gives you that extra freedom to experiment, as there are numerous ways to approach each scenario. 
Desperados III looks brilliant! The maps are well designed and expansive, and the demo sees you navigate the entirety of a train and a small town overrun with bandits. Something about the way Desperados III is presented really captures the classic vibe of real-time tactical titles, whilst also being a clean and pretty game that runs well.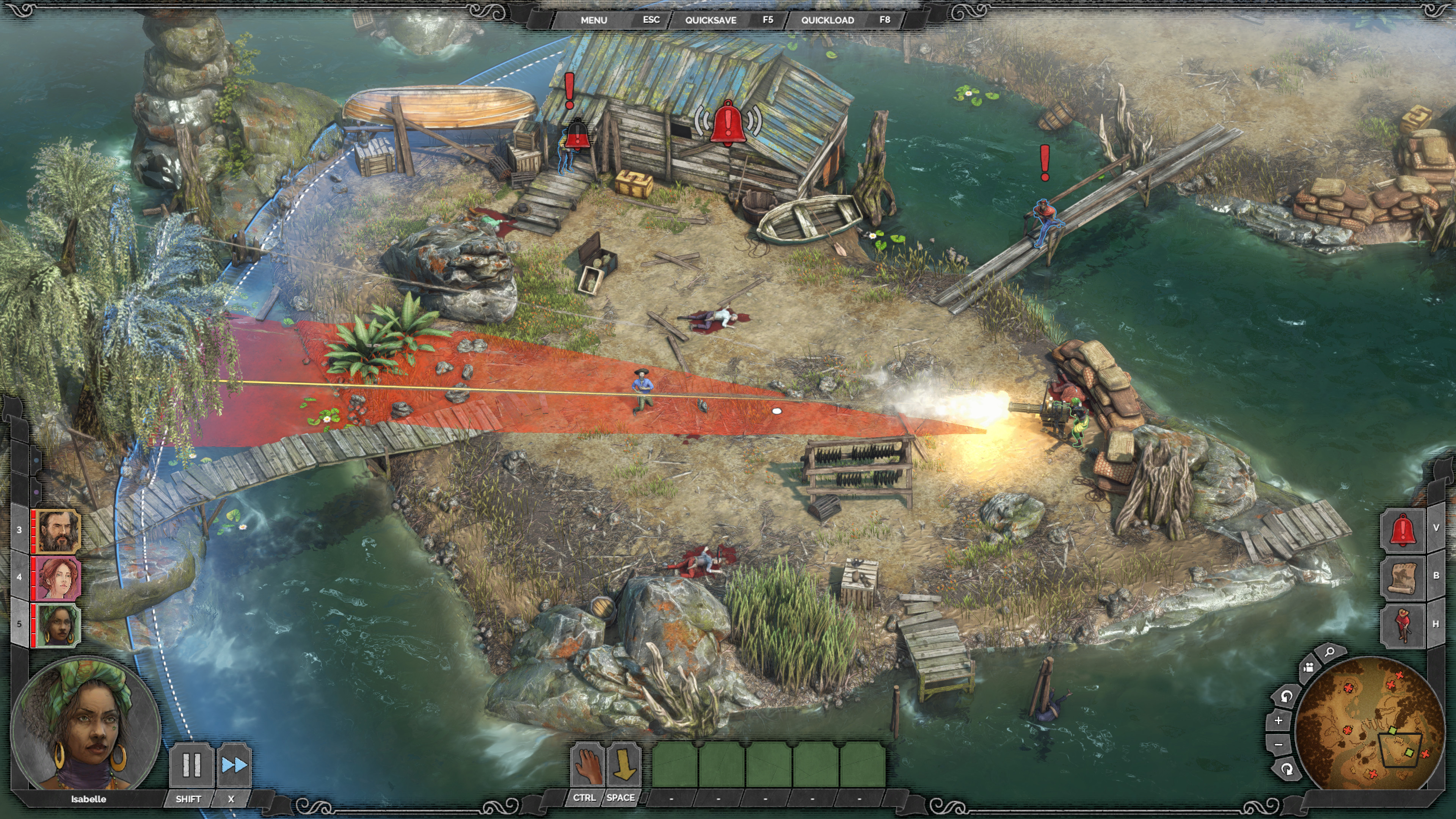 Verdict?
All-in-all, the Desperados III demo left me with an excellent first impression. The tension of silently plotting your assassinations on actively patrolling enemies, that are often watching out for each other really engaged me and I'm positive the full release will give me many hours of enjoyment. Play the demo if you want a taste for what this kind of tactical stealth game is all about, but I can honestly tell you that from the snippet I've played, the full release will be worth every penny.
Platforms:
PC, PS4 and XBox One
Purchase Link:
Humble (PC)
If you would like to read about Strategy games, you might be interested to read this review of Warborn.
Links may contain affiliate codes that help pay for the server and domain costs of the website.
If you'd like to see more articles from us, please remember to follow us on Twitter🐦 and consider turning notifications on. Or type in your E-mail address and click the button for free email updates. You can also come chat with us on Discord.
Support High-Quality And Detailed Coverage
Want to support the cost of us bringing you these articles or just buy us a coffee for a job well done? Click the Ko-fi button below. You can even find some digital goodies in our shop~!
Damien (dkpriory) has grown up gaming, from the humble days of the Atari all the way through to modern PC gaming. Unafraid to let a game steal his life for a few months, he is passionate about playing something immersive but also yearns for something to take him back to his childhood. Sadly no longer a member of the NookGaming team or creating content, but check out his archives on Youtube here.