A Sneak Peek
With Dirt 5 due to release in a couple of months on the 6th of November 2020, I was given the opportunity to test out an early version of the game which was centered around its "playground" mode. Whether this will be in the final version, or how much this reflects the content of the full game, is not clear. What is clear is that it's a fun, exhilarating, and highly customizable preview, packed with content and it gives a good impression of what the full release will feel like. 
The "playgrounds" preview features three modes: "Gymkhana", where you are given the chance to showcase your skill and prowess at the game by pulling off as many tricks and combos as possible in an allotted time. "Smash Attack", where you're given a target score to reach within a certain time limit by crashing into inflatable objects and there is of course a "Gate Crasher" mode – a frantic rush through obstacles and terrain changes to make it through checkpoints and set a blistering time. 
I had two options: I could create my own courses in one of two arenas and publish them for others to try; or, I could try my hand at courses that others have created. This second option was by far the most fun for me, as I simply didn't have the creativity or imagination to create a course that I would be proud to share with other players. Some of the courses were incredible. That's a point I would like to hover on – the game looks amazing! I was playing on a PC equipped with 16GB RAM and 1080ti – so by no means up to date, but definitely a solid PC. It seemed really well optimized and ran like a dream, whilst also looking top-notch. It was a colorful and eye-catching experience.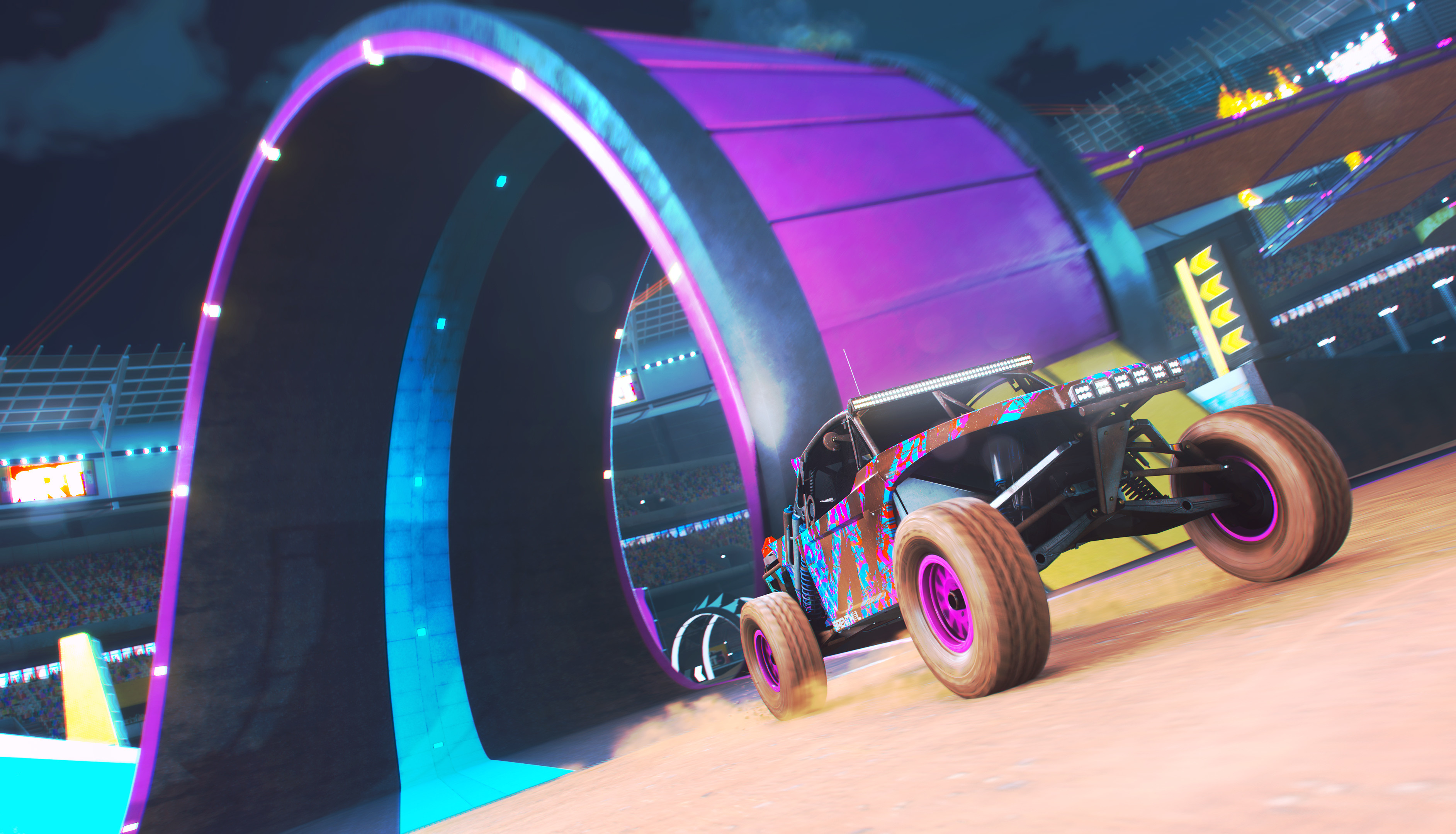 The cars themselves handle really well. One stand-out was the Skoda Fabia that someone had selected as the vehicle of choice to complete their course with. Controls are intuitive and the cars feel really nice on the back end, perfectly tuned for some flips and tricks, drags, and turns. I look forward to tweaking my car in more depth in the full release through a career mode – something that isn't possible in the Playgrounds preview build. 
There were a couple of things I didn't like about the time I spent in Dirt 5's preview though. For one, making it exclusively about the Playgrounds mode got tiresome after a while. It was good for a few short bursts, but the novelty wore off for me. Also, the colors, whilst initially impressive, became nauseating and I yearned for the more natural tones of courses that are just on dirt. Which leads me to my next point – whilst I completely understand the focus on Playgrounds, I feel the preview would have benefited from showing off what the game will have to offer in terms of the career mode, by letting the player test out some standard tracks, rather than player-generated ones. However, that's a very minor gripe – after all, this was just a preview and not the full game!
All-in-all, Dirt 5's Playgrounds Preview has me excited for what the full game has to offer. It's slick controls, intense graphics, and novel approach to online play leaves me with the impression that when it releases, Dirt 5 will be a mainstay with arcade racing fans (and rally fans alike) for some time. I had a great time and I already know I'll have a blast when the final version of the game hits the market. 
DIRT 5 IS (TENTATIVELY) RECOMMENDED
Platforms:
PC, PlayStation 4, PlayStation 5,  XBox One, XBox Series S/X, Google Stadia
Purchase Link
:
Humble (PC/Steam)
If you would like to read about Arcade games, you might be interested to read this review of Tony Hawk's Pro Skater 1 + 2.
Thank you to Koch Media for providing a PC preview code for the game.
If you'd like to see more articles from us, please remember to follow us on Twitter🐦 and consider turning notifications on. Or type in your E-mail address and click the button for free email updates. You can also come chat with us on Discord.
Support High-Quality And Detailed Coverage
Want to support the cost of us bringing you these articles or just buy us a coffee for a job well done? Click the Ko-fi button below. You can even find some digital goodies in our shop~!
Damien (dkpriory) has grown up gaming, from the humble days of the Atari all the way through to modern PC gaming. Unafraid to let a game steal his life for a few months, he is passionate about playing something immersive but also yearns for something to take him back to his childhood. Sadly no longer a member of the NookGaming team or creating content, but check out his archives on Youtube here.