Memories on the Shoreline is an original English language visual novel and the latest one created by Crystal Game Works. Their stated specialty is games with themes of both fantasy and romance and this title is no different.
Unlike many visual novels that take place in Japan or a fantasy world of some sort, the setting here is slightly more grounded – a seaside town in Florida, USA. Admittedly though, this little holiday getaway does have a hidden side to it.
As a warning, unlike many visual novels I review, this is an Otome game. For those who have not heard the term before, it generally boils down to being targeted towards women and often involves the female main character developing relationships with male characters.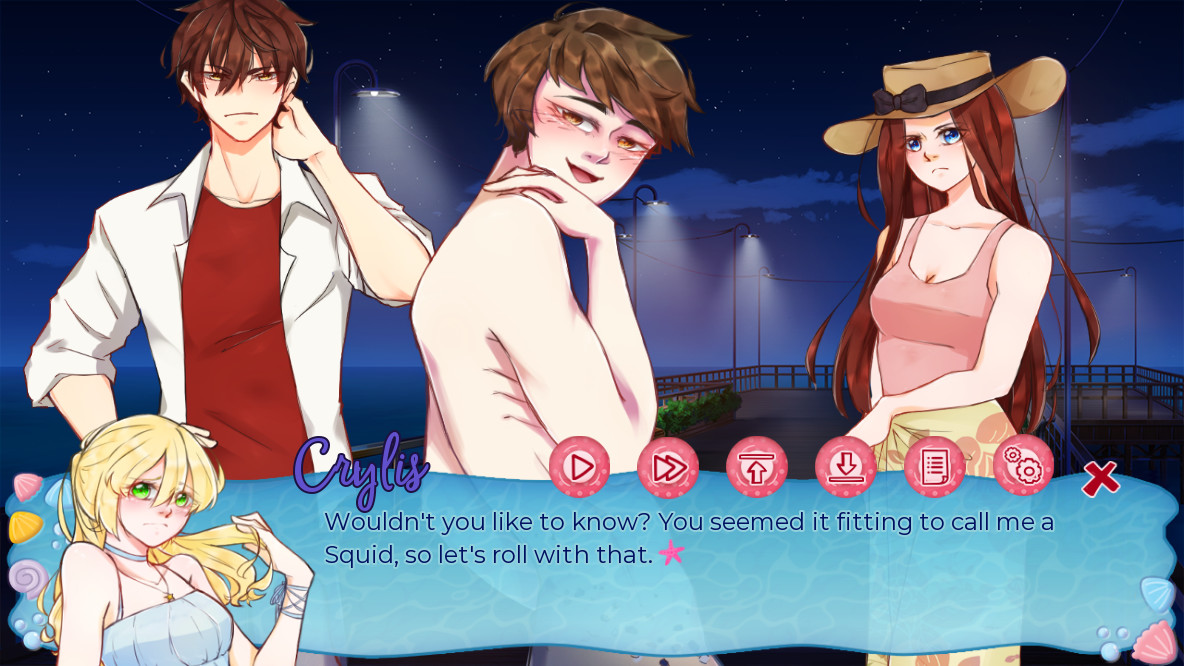 Melody's Time Off
The story opens with our main character Melody, having just arrived with her friend Shion. The somewhat impulsive Melody has booked them onto a short break to take a rest from her study.
Soon we meet Brennan, a fisherman and somewhat of a flirt. He warns us to avoid going out at night because strange things happen. Melody, ever the adventurer, decides that means that going out at night is a necessity.
This is where we come across Brennan in a fight with a mysterious figure. This turns out to be Crylis, a mermaid. We learn that there is a community of mermaids nearby and that they sometimes appear. In this world, mermaids have a number of special powers, including the ability to form legs and to walk on land.
This essentially sums up the opening of the story. From thereon it explores the lives of Brennan and Crylis, with some diving into their history and the world of mermaids. This is a rather casual romance, with a touch of drama. I would say that it is mostly character-focused and mostly involves following the four characters through regular events of life, rather than the fantastic. Generally, the tone is kept reasonably light, despite covering a few darker topics.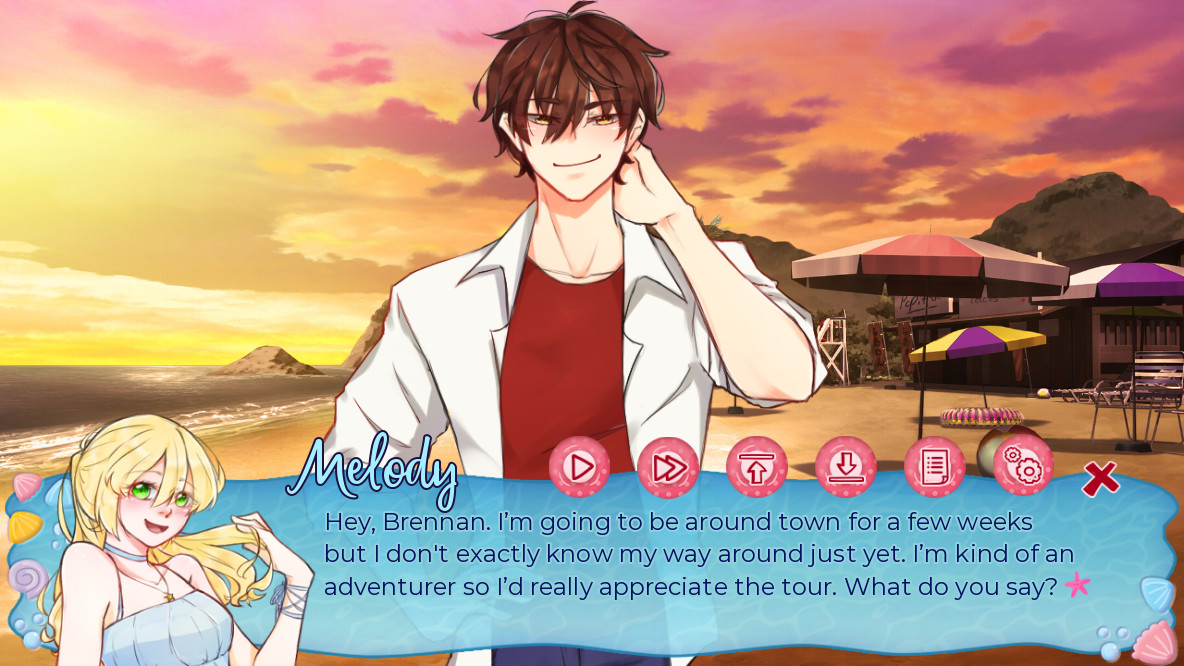 Woman's Got Options!
The story involves quite a few choices. While some scenes are reused, there are two paths where the reader will see mostly different content if the obvious choices are taken. These split into five different endings. I was quite pleased with the effect the choices had, as they all had a real purpose. I always like being able to influence the story and to see that influence directly is great, rather than on a hidden point system that only shows the result at the end.
I did feel like the endings were quite sudden in a way. The build-up was certainly there, but I would have appreciated a little more to them and how the story closed for some of the endings.
The characters were quite interesting, I thought. We have Melody and Shion who are childhood friends but appear to be opposites. Melody is the positive outgoing adventurer, while Shion is more reserved and can be quite harsh. On the male side, we have Brennan and Crylis. Brennan is confident to the point of arrogance and can act rather negatively, but he has his redeeming qualities. Crylis lacks social skills and a full understanding of human society, but he act well at times. Both of them have secrets in their past for the reader to unlock.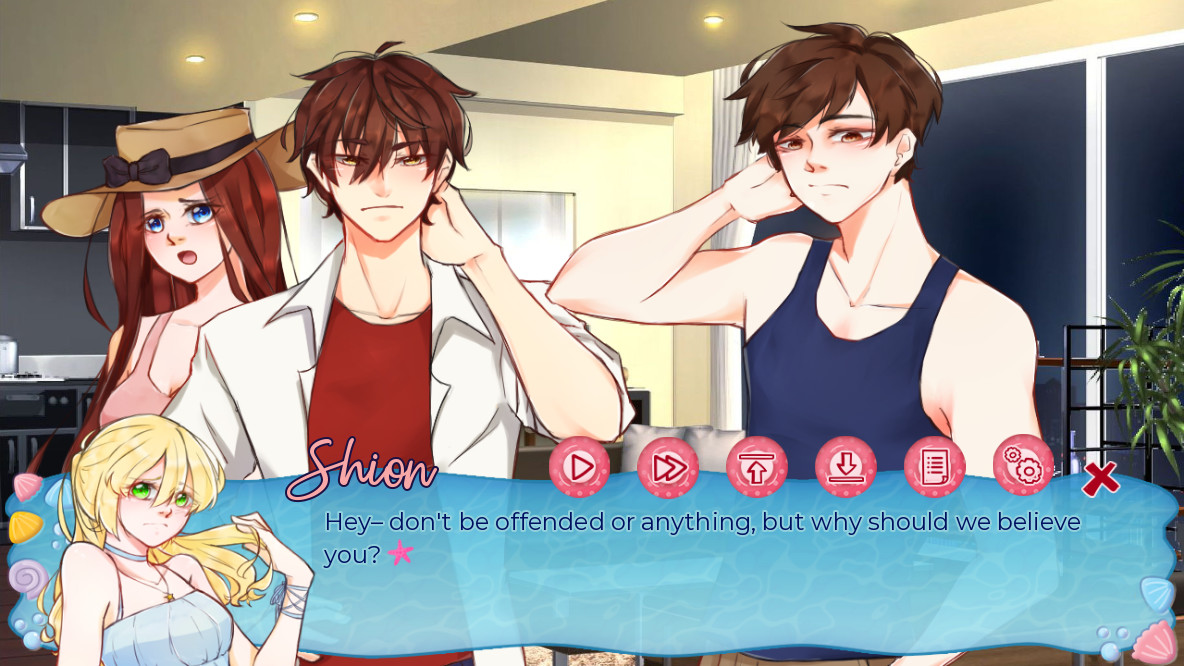 Is It Pretty?
I personally took slightly over one hour to complete a single playthrough of the story, but I am quite a fast reader. To get the multiple endings and see all of the content took approximately two hours in total, using skip to bypass the previously read content. It is quite a short visual novel, but considering that it hovers around the $5 mark, that is to be expected.
I admit I am not a huge fan of the character art style. Some of CGs are well done and most of the character art was okay, but I did initially cringe when seeing Crylis. This is down to personal preference though. The character art style is consistent throughout, but it is worth noting that the CGs use different artists, so they are a bit inconsistent.
The sound is an issue and once again, I think this is likely down to budget. The music included is fine and fitting, but rather limited in variety. Some scenes are completely silent. Sound effects are very minimal too. There is no voice acting at all. I do think that improvements in this area could really bring the story to life more.
As visual novels do have the reputation, is it worth noting that this contains no scenes of an adult nature. I wouldn't say this is completely family-friendly due to a couple of adult jokes – I suppose being water-themed they had to add in the joke about being wet somewhere. I would suggest that it is suitable for teens.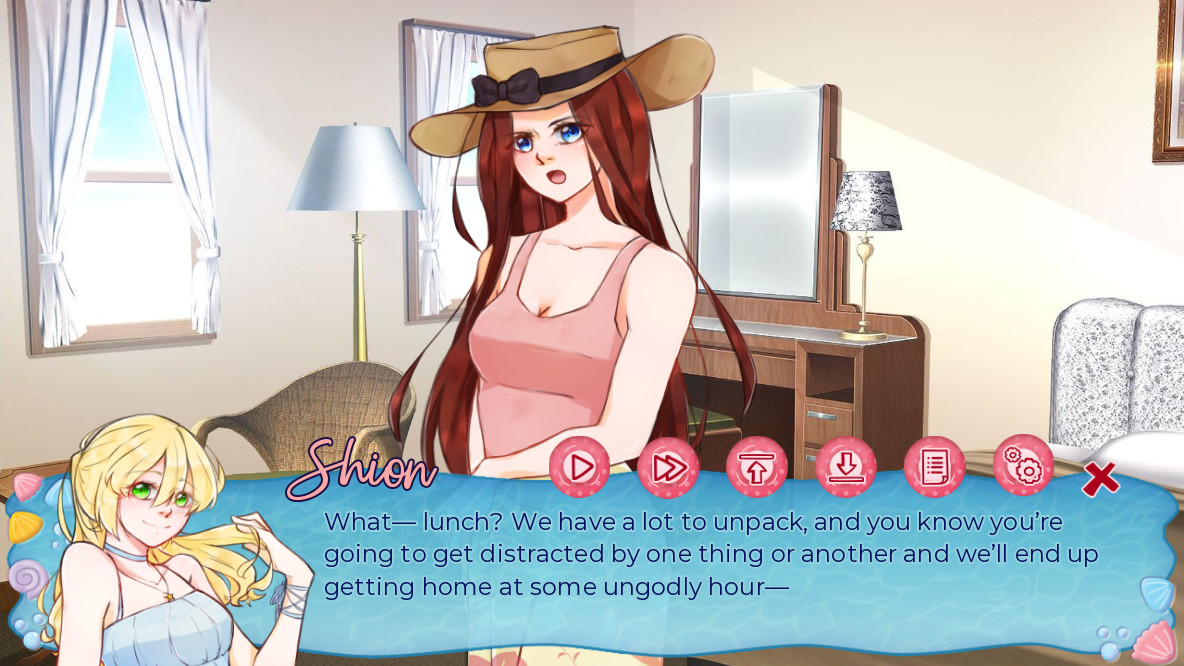 Verdict
While I have mentioned my issues with a couple of parts, it was interesting to read through Memories on the Shoreline. It was a short taster of a genre I don't often experience and kept me reading throughout. I do think that it would be interesting to see what Crystal Game Works could do with a larger budget and if you like the idea of a short but budget-priced Otome visual novel, supporting them with this title would be a good way to ensure that happens in the future.
MEMORIES ON THE SHORTLINE IS RECOMMENDED
Platforms: PC (Steam)

If you would like to see more Visual Novels, you may be interested in our review of Cupid Parasite. Or how about checking out some of the other top visual novels for this year on our Top Visual Novels of 2021 list.
Many thanks go to Crystal Game Works for a PC review code.
If you'd like to see more articles from us, please remember to follow us on Twitter🐦 and consider turning notifications on. Or type in your E-mail address and click the button for free email updates. You can also come chat with us on Discord.
Support High-Quality And Detailed Coverage
Want to support the cost of us bringing you these articles or just buy us a coffee for a job well done? Click the Ko-fi button below. You can even find some digital goodies in our shop~!
A gamer since the days of Amstrad and DOS and someone who has dabbled in a variety of professions. He enjoys a wide variety of genres, but has been focusing on visual novels and virtual reality in recent years. Head Editor of NookGaming. Follow him and the website on @NookSite.