Introduction
OshiRabu: Waifus Over Husbandos tells the story of what happens when a geeky young woman who has only loved 2D men accidentally proposes to a trendy young woman who is only into other women. How can one accidentally propose you might ask? I'll leave you to find out the details, but it involves misinterpreting some talk about marriage.
If you have ever watched or read the Urusei Yatsura, this might sound a little familiar. This isn't by chance. This classic series is directly referenced in OshiRabu, both by mentioning it as an old story and by having one of the young women dress up in a certain outfit with horns. There are a few other less obvious references too. Even the character names are somewhat similar. I should mention that it's not needed to be familiar with the series to enjoy this visual novel, but it does add to the experience.
OshiRabu is available on Steam (PC), as well as Denpasoft and other platforms. It should be mentioned that there is adult content in this game, but not on the Steam version which I am playing. The adult content can be added by a paid DLC, which can be found here or is included in the Denpasoft version. As implied by the title, OshiRabu is a yuri game. All of the notable characters are women, including the main character.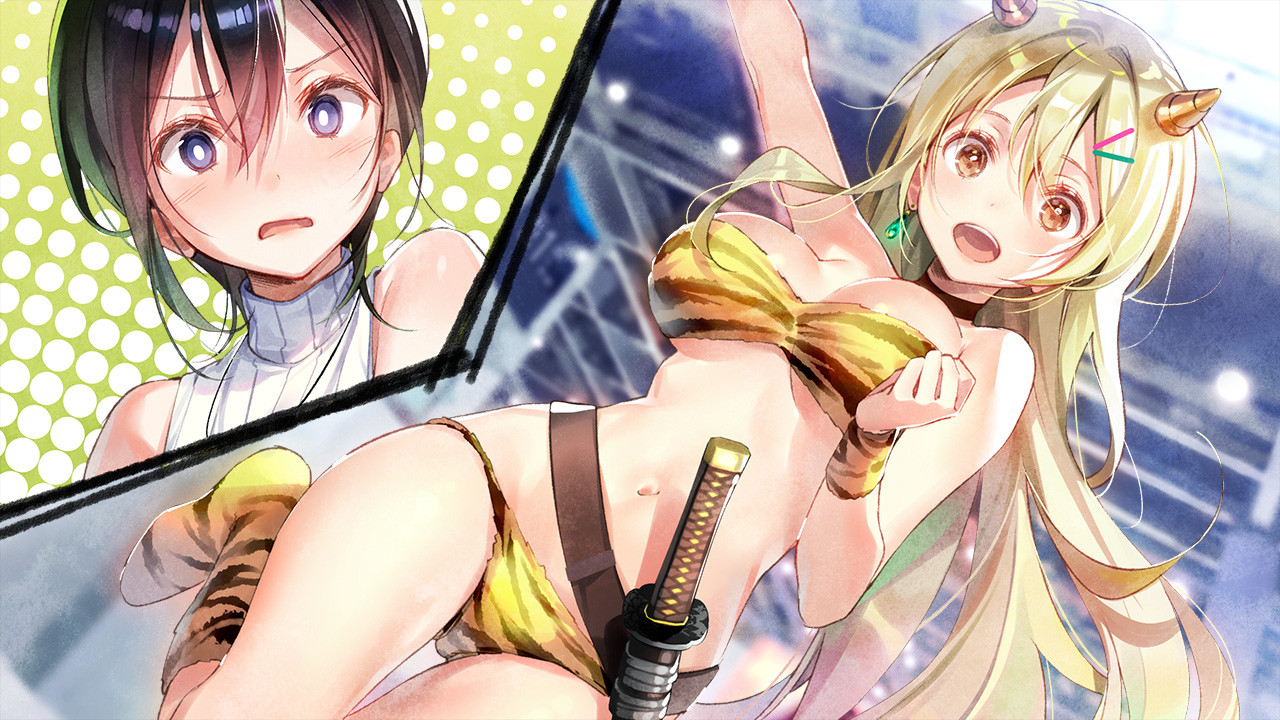 Story
As I mentioned before, the story starts with an accidental proposal. Even before this though, it starts with Akuru's true love – her husbando. We learn that our protagonist Akuru is an obsessive player of what are known as gacha games. These are the games where you have a random chance to win certain items, characters or similar. Quite often they involve players putting a lot of money into them to get more chances, as we see when Akuru talks about spending two months worth of rent money on trying to win the character she's obsessed with. Unfortunately, Akuru has notoriously bad luck.
Enter Ren, seemingly the luckiest woman around. Through a chance meeting, Ren meets Akuru and wins the prize she wants for her. Through some unlikely events, this evolves into her obsessively chasing Akuru, who has never thought of women that way. Somehow Ren manages to trade her luck into being able to stay at Akuru's home, despite Akuru's apparent lack of interest.
The story follows the two new roommates as they go through a number of events. We see how Akuru goes to manga and game events with her best friend, while Ren is more interested in clothes shopping and makeup. The difference between the two characters is what adds a lot of the comedy, as well as Ren's attempts to understand it to try and advance her one-sided love.
As well as the two main characters, the best friend Shino adds a lot of fun to the dynamics. Despite not seeming the type with her deadpan voice, she enjoys teasing both of them and likes to make trouble for Akuru. Despite it being a one-sided love, Ren becomes very jealous with the right triggers and a lot of the moments which made me laugh were from Shino triggering this.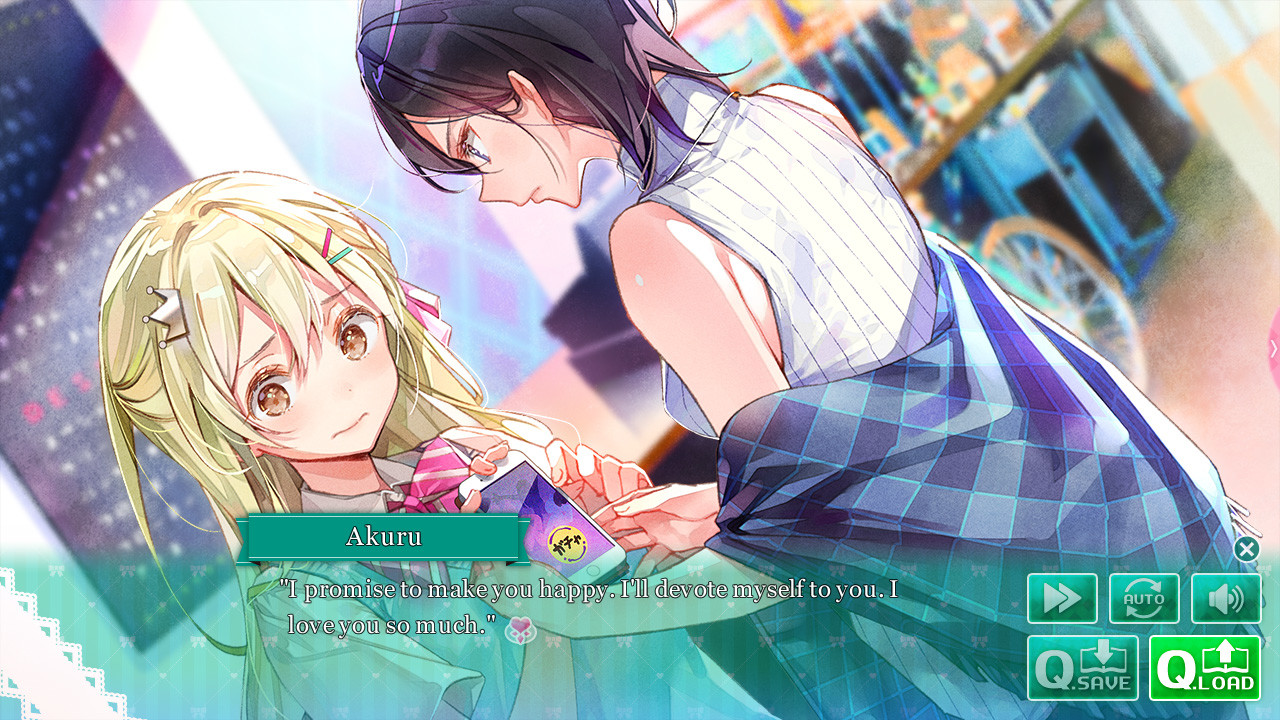 The story is quite short, only approximately two hours long so I do not want to give away too much detail. What I can say is that this slice-of-life yuri story is fairly relaxed. I can't say that the story itself was particularly exciting as it was mostly daily events, but the character interactions were great. Having Akuru being solely interested in her virtual husbando from the game, while Ren was obsessively in love with her brought about a lot of hilarious moments. It also brought about moments where I could emphasize with Akuru for wanting to go back to her normal life and interests as well as times where I was rooting for Ren's love. 
There are some limited choices in the game, which do affect the ending achieved. The majority of the content can be seen during a single playthrough, but it was nice to have some alternate endings. It would've been nice to see more of these.
One thing which did detract from OshiRabu a bit – the editing. While the writing was good, it could do with another editing pass. It was fine in most cases, but I did notice several instances of spelling mistakes, a few grammatical issues, the occasional space in an incorrect place and even a couple of times where the sentence cut off early. I only played in English so I can only comment on that. It is worth noting that the game does also come with Japanese and Chinese language options which is a nice feature.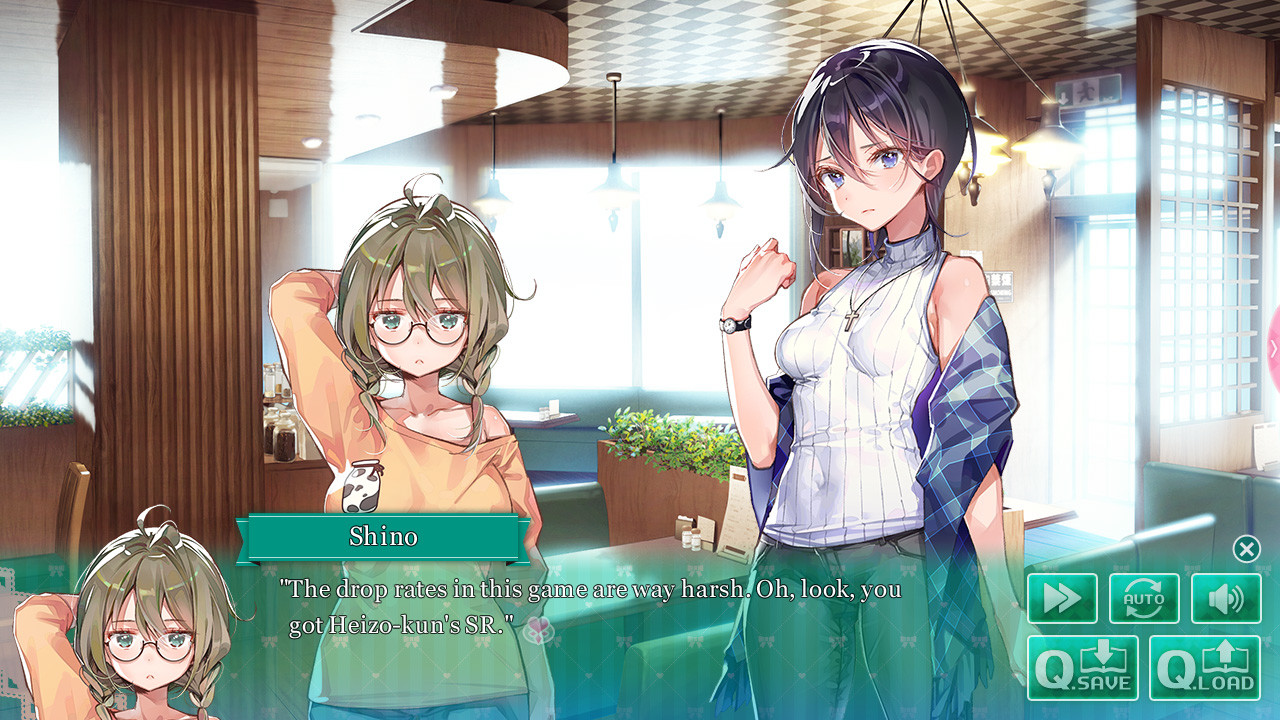 Graphics and Sound
As with many yuri games, I found the art to be particularly beautiful. It uses that soft watercolor style which often seems to fit the genre and it has a good amount of detail in the characters, the backgrounds, and the twenty-one CGs. The amount of CGs is particularly good for such a short visual novel. There's a hidden bonus around this after finishing the game too which Japanese speakers may appreciate.
There are eleven rather pleasant pieces of background music, which fit a variety of moods. None of them will be winning awards, but they work well for the visual novel. I enjoyed the voicing too and felt like they fit the characters well.

Verdict and Summary
OshiRabu is a rather laid-back visual novel without any real sense of urgency or peril. It's all about the cute art style, seeing the characters grow together and having some laughs along the way. As many visual novel readers would fall into similar subcultures as the characters, I think many could relate in that way too.
The Steam version is fairly innocent and unlike some visual novels, that's not just a case of fading to black before certain scenes appear. OshiRabu is actually pretty tame as far as adult topics are concerned.
Despite my minor issue with the editing and that it's quite short, I have to say the following; 
OshiRabu: Waifus Over Husbandos is recommended
OshiRabu: Waifus Over Husbandos can be bought digitally on Steam as a censored version. This can be patched with the DLC found here or the full uncensored version can be bought here.
Many thanks to SukeraSomero for the review copy.
If you enjoy yuri games such as this one, you may be interested in Lingua Fleur: Lily.
Links may contain affiliate codes that help pay for the server and domain costs of the website.
Nook has been gaming since the Amstrad and DOS. He enjoys a wide variety of genres, but has been focusing on visual novels and virtual reality in recent years. Follow him and the website on @NookSite.