Rainbow Bay, the paradise for dog lovers.
Those who have been dreaming of a game where you can get to know and date dog lovers, adopt the cutest dog in the world, shower unlimited love on your pet dog, feed your pet dog with delicious treats, groom your pet dog to look its best, listen to your pet dog bark and fart, clean up your pet dog's poop — well, listen up: Best Friend Forever, an upcoming visual novel game by publisher Alliance and indie game studio Starcolt, lets you do all of that and more!
Best Friend Forever, which combines dating and pet care management simulations, brings players to Rainbow Bay where pet dogs outnumber local residents. This LGBTQ+ friendly game presents a diverse cast of six (legit human) singles whom one may befriend, date, and fall head over heels in love with. And of course, players get to adopt and take care of their very own virtual pet dog!
While the full game is slated for release on 27 August 2020, a demo covering the first five in-game weeks is already available to play on Steam. My general impressions of the current demo are laid out in the following spoiler-free review.
A light-hearted and cute visual novel game.
With a main title music where a playful woof here and an enthusiastic yap there rap in beat to the bouncy melody, it is not difficult to instinctively expect the game to be relaxing and wholesome. Other than the joyful tune, the title screen also mesmerizes me with its animated background featuring lush green trees swaying gently under the tranquil blue sky.
The introduction to the main plot is concise and has a comfortable pacing that gently eased me into its modern day setting, and right into the lenses of a newcomer looking forward to beginning their new life in Rainbow Bay. Character customization, while being limited, helps in self-insertion. Aside from the biggest limiting factor of only three possible physical appearances available for choosing, the main character is customizable in other aspects from full name and pronouns to star sign and blood type.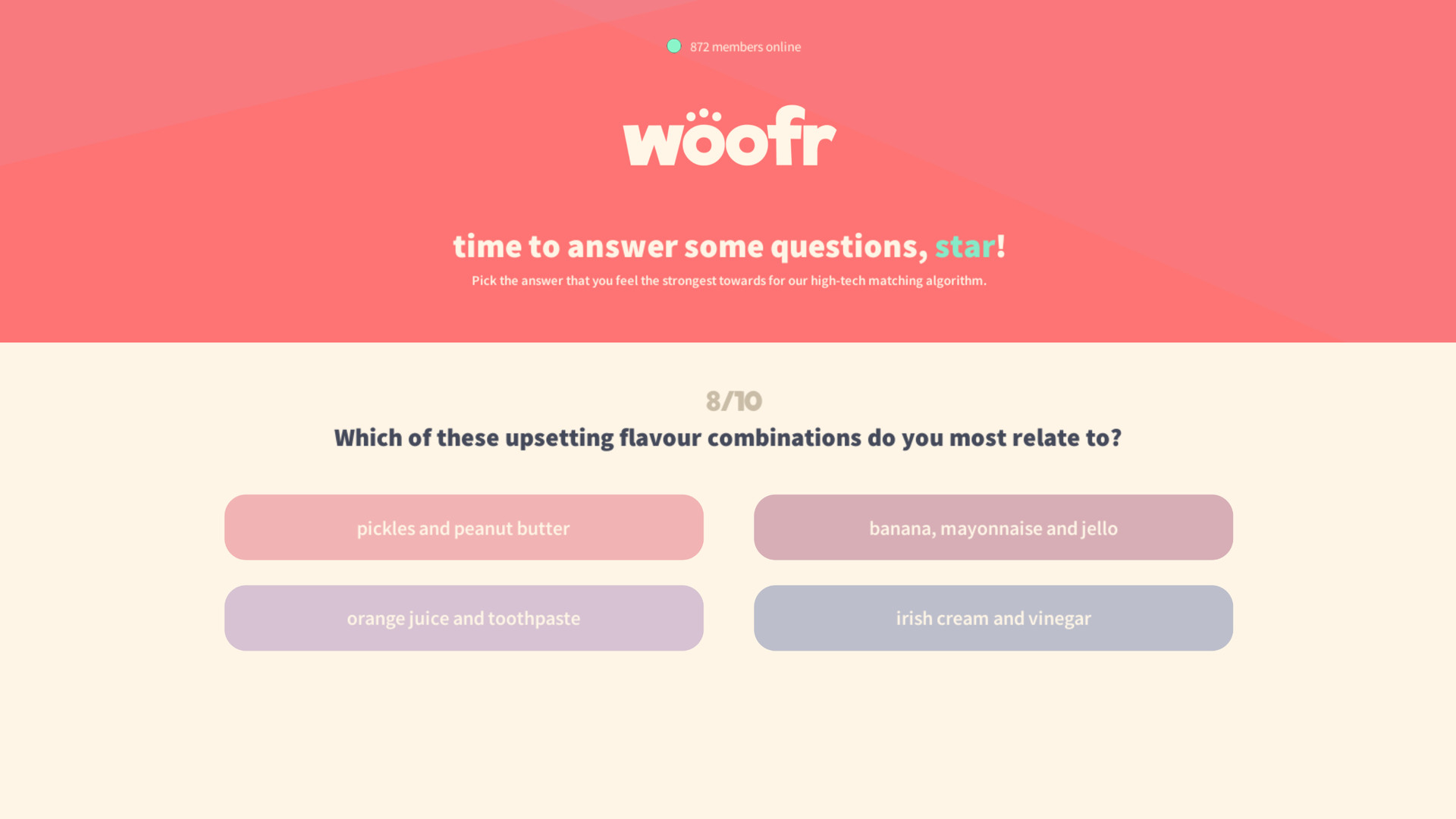 When setting up the character profile, there is an amusing personality quiz section with ten randomly picked and shuffled questions included. Although the questionnaire is a refreshing addition rarely seen elsewhere, I have reservations about its actual impact on the story or gameplay mechanics. From what I have tried in the demo, I am rather bummed to observe that my answers to those questions have no effect on any game content: the dialogue choices I can pick from are still the same, and nothing is mentioned during conversations as well. I am not sure if we would get to see our quiz choices being referenced during the latter parts of the game, but I think it will be a really neat surprise if that happens.
While the writing depicts Rainbow Bay as an exciting bustling city, the art has somewhat watered down this imagery. Due to the colouring method chosen, the stylized cartoon landscape art and character sprites in Best Friend Forever generally appear flat. Thankfully, the character sprites have eye blinking animation in addition to varying facial expressions, so they do not end up looking too spiritless. There is also visible coherence in the art style and the colourful nature of the art still helps to paint a youthful and visually colourful city.
Adopt a dog and shower it with love!
Perhaps the most exciting segment of the game, the pet care management simulation; It consists of two main parts: everyday timed dog-related events that occur at random during the story segment, and special training, feeding, and tending activities that recur on a weekly basis. Both everyday events and weekly activities are tied to various wellbeing stats and dog trait levels. Naturally, the goal is to keep your pet dog's wellbeing stats at satisfactory levels and to level up its dog traits.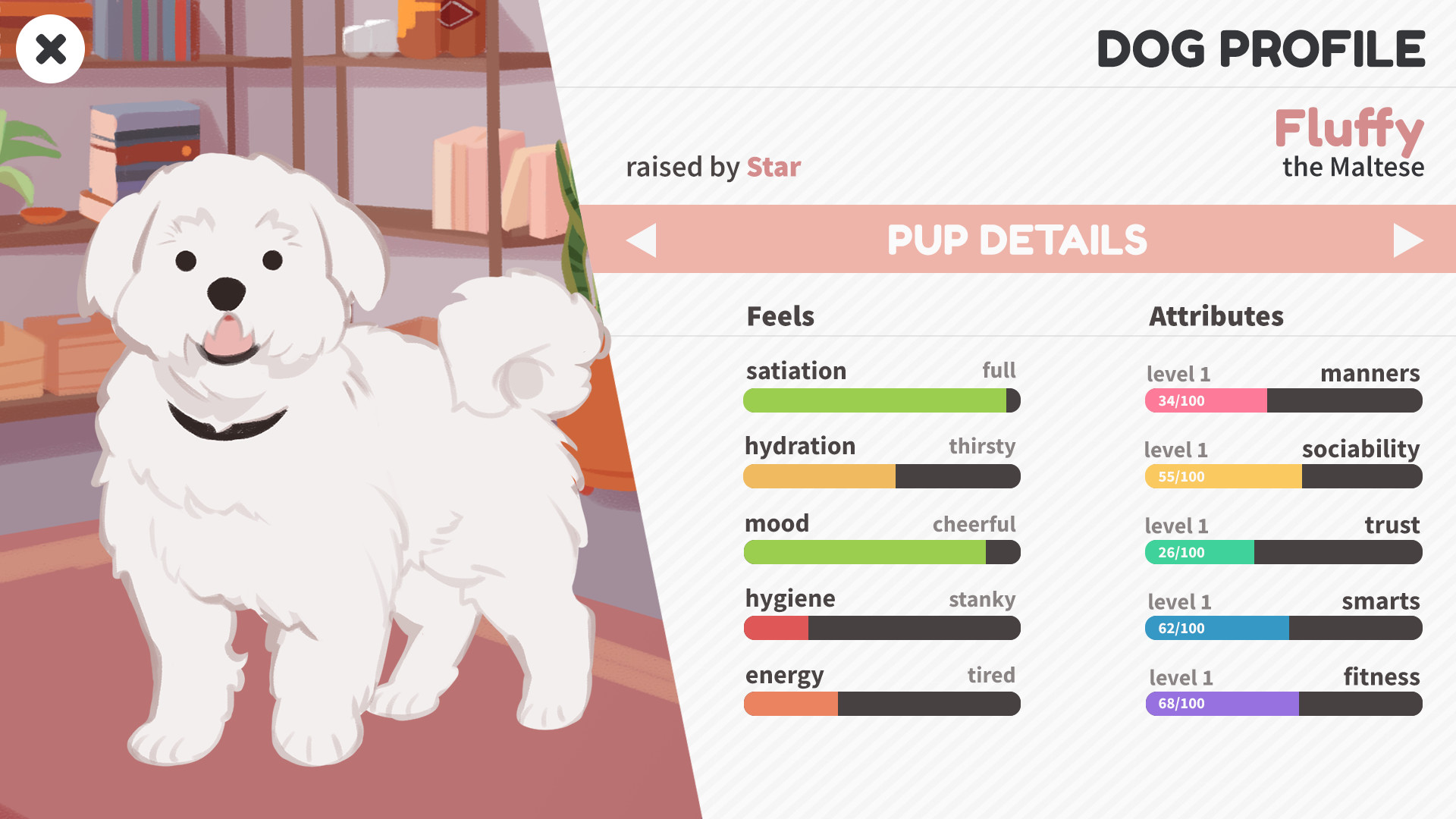 In the demo, players may choose from four adorable dogs of different breeds to adopt. Each dog is renameable, has their own strengths and weaknesses and even backstories. 
My first choice was Blocker as I feel a lot for his backstory. However, when I tried the demo again with Cheeseball next, I noticed there is no discernible difference in the game experience, at least for the first five in-game weeks. On the positive side, I do not have to worry that I was missing out on some interesting content based on the dog I chose to adopt. But I would be lying if I say I did not feel disappointed in the least that my virtual pet dog, despite its differing personality and backstory from others, is actually no different from the others. This reduces the incentive to adopt a different dog in another playthrough as it feels like it is essentially the same dog, just donning a different skin. Personally, I would have appreciated even one short scene that is personalized for the pet dog we have chosen.
Nevertheless, I am really impressed with the dog's character sprite that seems to have a Live2D effect. The dog not only nudges its smiling face against your hand cursor as you pet it but it also moves its head around to follow your hand cursor if you wave around its face after a pat. And yes, you can pet it at any time during the story section of the game! The pet dog looks far livelier than the human characters in the game as the former never sits idle. One moment, it licks your leg, and then it lets out a big fart when you flirt with your crush (thanks for the vote of confidence, mate), and next moment, it tries to chew your newfound human friend! With such an animated pet present, there is now never a dull moment during the ordinarily uneventful routine of reading screen after screen of text in this visual novel game.
I find the random dog events in Best Friend Forever quite a breath of fresh air. But some of these events, mainly those that require players to grab their pet dogs, have caused me to accidentally advance unread dialogues several times in the beginning. As both the grabbing action and text advancement use the same left mouse click, in my frantic fumble for the pet dog before the countdown timer is up, I often made several clicks that the game registered to advance the dialogue. So I would often end up failing that particular dog event and also missed reading several lines, which caused me much frustration especially since there is neither a history log nor rollback function to fall back on.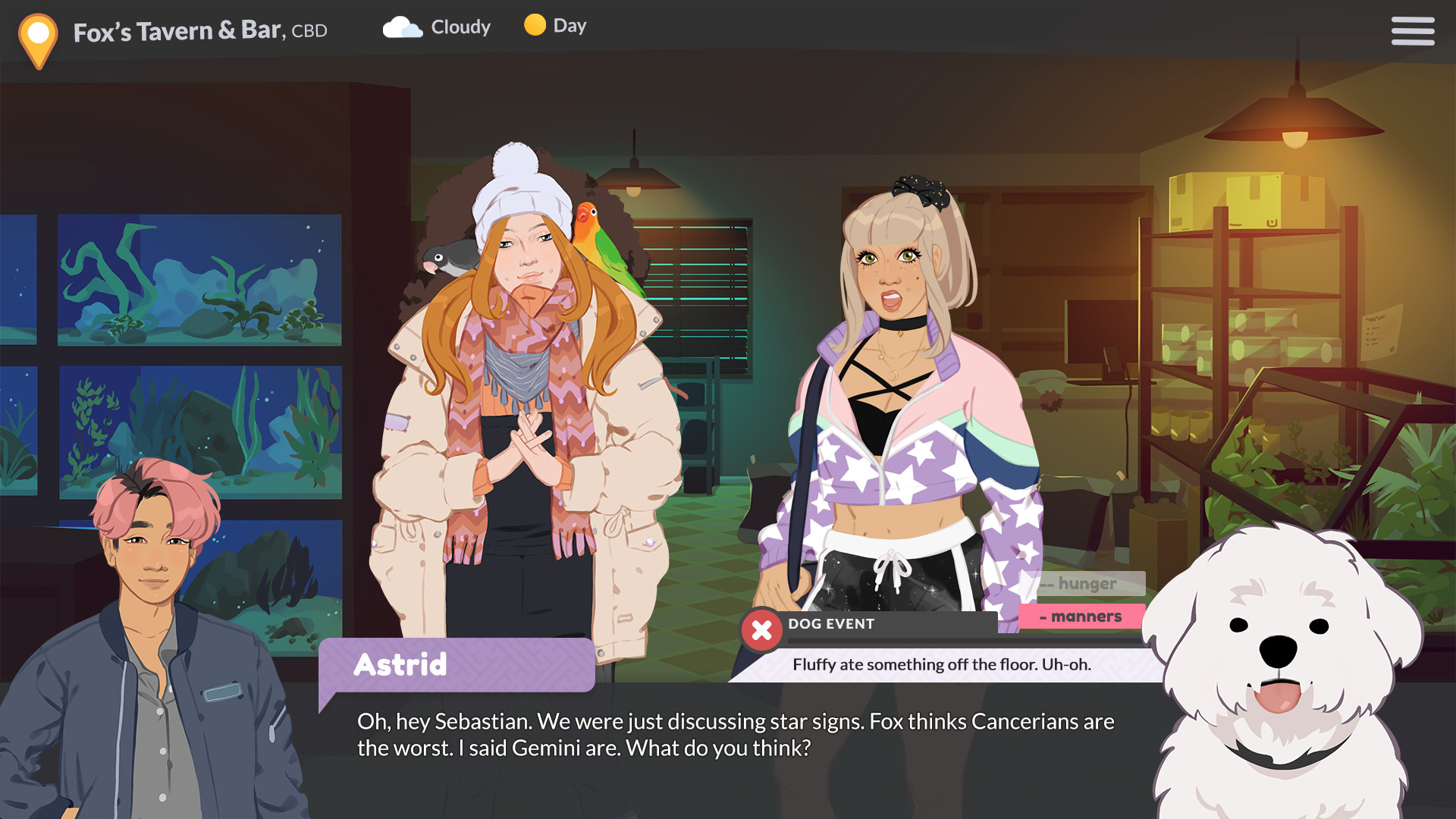 For the other part of the management sim, at the end of every in-game week, players will be tasked with scheduling appropriate activities to train their pet dogs and then giving them the pampering they deserve. Eighteen training activities along with five feeding and eight tending mini-games are showcased in the demo, which I think already provide an adequate number of choices to pick from. Overall, I find the stat-raising easy-peasy; by the third in-game week, my pet dog's wellbeing stats are all at maximum and maintained at that until the end of the demo. This is certainly great news for anyone who wishes to focus on the story. Furthermore, given that Best Friend Forever seems to be designed as a relaxing game, I would say that the low difficulty in its stat-raising portion is logical and welcomed.
Meet available singles and go on romantic dates!
Developing friendships and finding romance is the other big goal in the game. Every week, players are given a fixed amount of energy, which they can spend on regular encounters, extra pet dog training opportunities, romantic dates, or major events. Only the first three event types and the first date for each single can be experienced in the demo. Available events are clearly marked on a map with colour-coded markers and clicking on a marker will show details of that particular event: who you will be meeting and where. Such information help players prioritize and choose which events they want to go to for that week, a feature that I think is thoughtful and cleverly emulates similar dilemmas we face in real life.
Upon arriving at Rainbow Bay, players will meet six individuals whom they can date, and all of whom I find unique and interesting. Not only are they easily distinguishable through their character designs and voices, their personalities are highlighted through their manner of speech and actions also differ greatly. Generally, I am pleasantly surprised at the relatively huge range of representation seen for the characters in Best Friend Forever.
The writing does much justice to its lovely cast of characters, adequately and carefully detailing every main and side character so much so that I can easily imagine everyone as an actual person. Every encounter, including dates, provides new insights to the characters as individuals. The partial voice acting does a fine job in conveying the characters' primary traits too, like how one of the love interests' (pretty contagious) snickers tell me a lot about his jovial nature.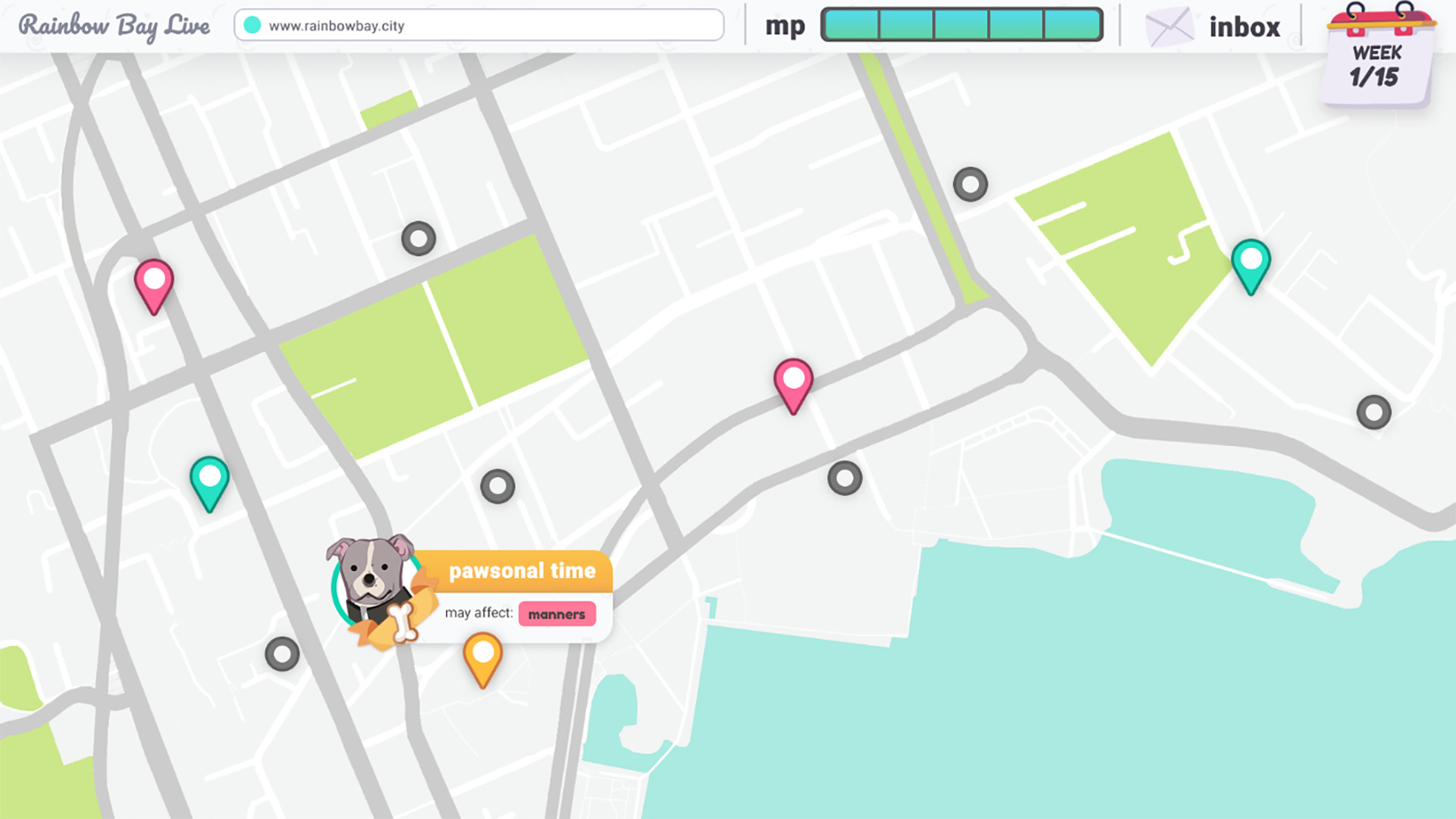 My main complaint would be how terribly short the regular encounters are. In a sense, they accurately reflect how a chance encounter with friends would play out in real life, but I cannot help but think "aw, that's it?" by the end of an encounter. Thankfully, at least judging from the first dates presented in the demo, dating scenes are written sufficiently long with enough substance to make the date worthwhile. It is also wonderful to see that no two dates are even remotely similar, which I hope will translate to really memorable romance storylines in the full game.
Verdict.
Although the demo has some minor bugs and lacks some quality of life features such as dialogue rollback and skip read text, it has still provided me with an overall refreshing and fun experience. From realistic characters and kickass pet dogs to wacky dog puns and chillaxing soundtrack, the demo has shown Best Friend Forever to be a wholesome game that is worth keeping an eye out for. While we can't speak for the full game yet, we can say that…
BEST FRIEND FOREVER (
DEMO
) IS RECOMMENDED
Platforms: PC, Nintendo Switch

If you would like to read about Anime style games with dates you might be interested to read this preview of Lovesick Darlings.
If you'd like to see more articles from us, please remember to follow us on Twitter🐦 and consider turning notifications on. Or type in your E-mail address and click the button for free email updates. You can also come chat with us on Discord.
Support High-Quality And Detailed Coverage
Want to support the cost of us bringing you these articles or just buy us a coffee for a job well done? Click the Ko-fi button below. You can even find some digital goodies in our shop~!
A person with many hobbies (and even more WIPs), KuroKairin plays, playtests, and reviews PC games. She loves games with good stories that bring her on an emotional and thought-provoking journey. Her favourite genres include otome visual novel, point and click, puzzle, and RPG. Follow her @KuroKairin.