Introduction
I'll be the first to admit that racing games are not my strong point. I enjoy them, but that's not to say I'm actually any good at them. So the possibility of diving into F1 2020 – the latest iteration of Codemasters' Formula 1 simulator was daunting, to say the least. On top of this, I hadn't played an F1 title in a long time, and oh how things have changed in the top flight of motorsport.
This truly is the pinnacle of racing simulation and in 2020, Codemasters have perfected a formula they've been going with for years. That's the thing with sports-type games – in a market of annual releases, how do you keep things fresh and invigorating? Codemasters have managed this with F1 2020 with a deluge of new features and details which have enriched the racing experience.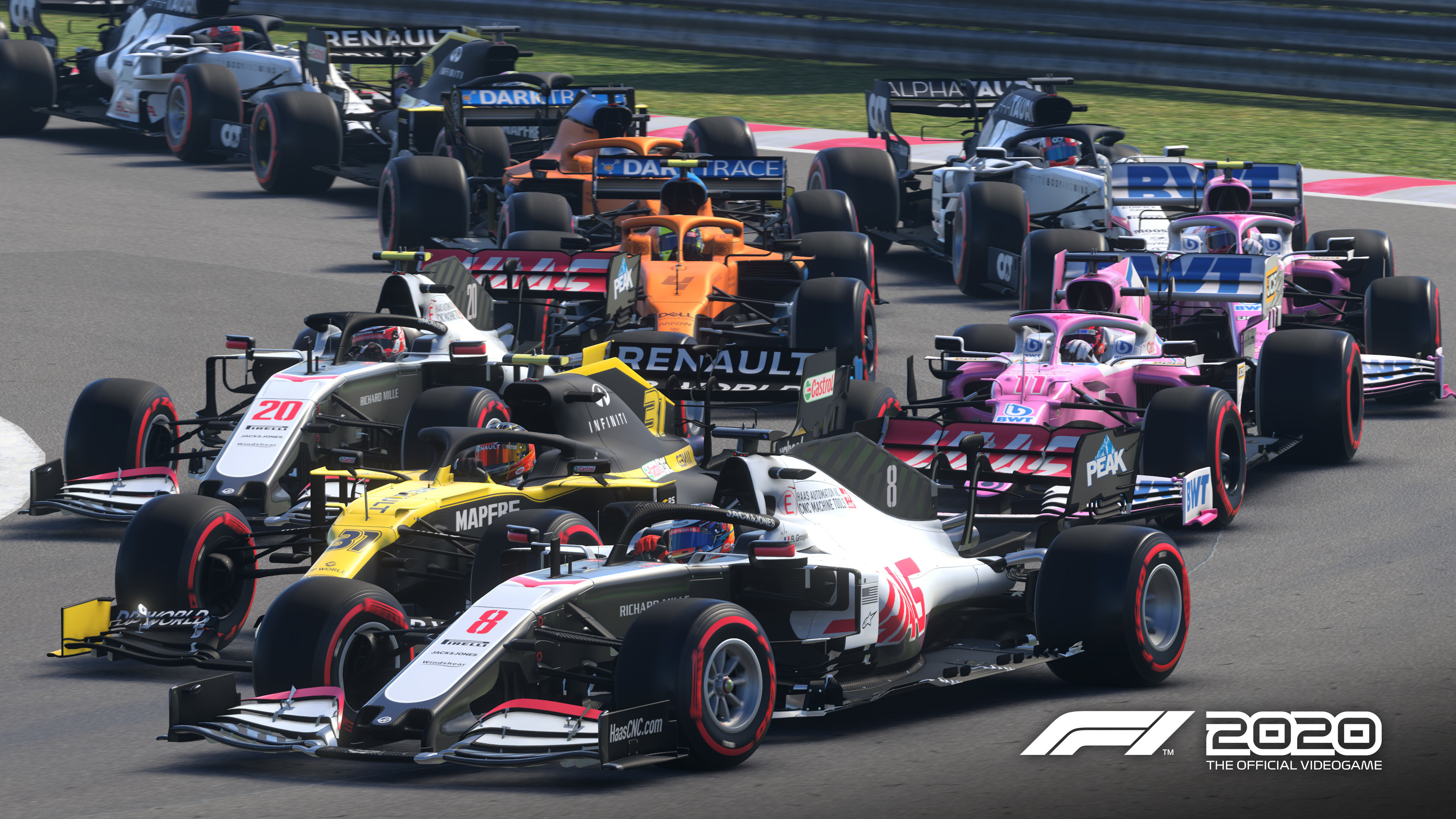 Career Modes
By far, the most comprehensive and immersive way to play F1 2020 is in one of its two career modes. You can compete as a solo driver, working your way through from Formula 2 and climbing the ladder through Formula 1, signing for new teams and trying to reach the dizzying heights of success, competing with elite drivers such as Hamilton, Bottas or Verstappen across a grueling 22 race calendar for 10 seasons.
But in this years' release, the developers have added another career mode – My Team which allows you to create and manage an F1 team from the ground up and race as the owner-driver. You control everything, from sponsors to engine supplier, team activities to car set up. In a way, My Team functions sort of like an RPG, with its very own upgrade tree split into four departments: Powertrain, Chassis, Durability, and Aerodynamics. Each department has its own set of upgrades you can unlock for your car that improves overall performance by spending R&D points. However, towards the end of the season, when technical regulations are changed by the FIA, you'll need to decide which upgrades to modify in order to carry them over into the new season.
Along the way, as the owner of the team, you're in charge of finding new sponsors to bring in the bread, level up your teammate, and keep morale high in your departments. The higher morale is, the quicker and more successful your departments can be at creating your upgrades. You can keep morale high by answering questions during interviews with the media between sessions and sending your team on activities between race weekends.
On the track, you'll of course be tasked with performing against the fully licensed roster of other teams and drivers in a bid to take your team to the top of the F1 Constructors table. Essentially, you're tasked with micromanagement behind the scenes and performing in the races.
Gameplay
The way the driving is set up in F1 2020 is such that you can make it as easy or as immersive as you like. As I hadn't played in years, I started with an automatic gearbox and a bunch of assists turned on, but as I became more adept at the game I was able to gradually turn off these assists and switch to a manual gearbox for extra control and performance. You can, if you wish, even turn on clutch control, though I'm not quite there yet.
You can race a full calendar or tailor the length of races and sessions to suit your needs. For extra realism, if you race full sessions across three practice sessions, a qualifying session, and the full race, you can easily spend around 4-5 hours just on one race. The practices are of course useful to get a feel for the track, but what's impressive about F1 2020 is that you can tweak your car to your heart's content, customizing it to suit each circuit. Got a fast track with lots of long straights? Then set your car up to hit those max top speeds in eighth gear. Got a more technical, tight track with lots of twists and turns such as Monte Carlo? Increase the downforce, thereby sacrificing top speed but increasing your control of the car in corners. If anything about your car is feeling off, chances are there's a setting for that. From tire type to fuel mix, steering, and downforce, all of these tweaks are incorporated into an overall race strategy, ensuring you have the highest chance of success. Of course, in My Team, success is hard to come by at first, as you start with a cheaper engine and a basic car. You'll need to work hard on improving your car if you're to compete with the best teams.
There are also invitational events you can perform in for extra money and acclaim and of course, there's plenty of circuits to choose from if you want a one-off race, online multiplayer, and heaps of aesthetic customization for your avatar driver and your car livery.
Pros
So what's so impressive about F1 2020? Well, for a start the game looks absolutely stunning! The cars look amazing down to the smallest detail, the circuits are all replicated in such a convincing way (the race in Singapore being particularly impressive) and the menus and GUI's are clean, practical and intuitive.
The My Team mode genuinely pulled me in for hours and hours, as I found myself sinking real-time into setting up my car and managing my vehicles' performance as I would a character in an RPG. It's a surprisingly deep game mode!
What really took me by surprise though was just how much the car reacted to the various tweaks I made to it. You really notice the increased control when cornering in a downforce focussed set up and you definitely notice the extra speed and power when you go for something more centered on reaching higher speeds. Then again, you also notice the "bounciness" of the car, and my nerves were definitely heightened when I approached more twisty sections of a circuit. I played on a PC with a Dualshock 4 controller – I can't imagine how engrossing and immersive this game would feel played on a proper racing set up.
As a sucker for making things look good, I also really enjoyed the level of aesthetic customization there is in F1 2020. From car liveries, to gloves and helmets, to your sponsor decals in the My Team mode, you really can create an awesome looking vehicle!
Cons
In striving for realism and accuracy, I found the races in F1 2020 could be a little too long for my tastes at times. Whilst it's true that you can tweak the length of sessions, in the career modes, you're somewhat punished for doing so, as simulating practice sessions means you lose out on potential R&D points to level up with.
The interactions with the media quickly become repetitive and a little cheesy and I found myself entertaining them purely for the morale benefits my answers brought to the team, plus the fact that one of my sponsors paid me for answering questions!
Also, it's worth noting that the learning curve is very steep once you start to switch off the assists and ramp up the AI competitiveness. Playing this game how it's intended to be played is not for the faint of heart or the inexperienced and I found myself not "gitting gud" enough to compete at one point and I opted to turn back on some of the assists.
Verdict
On the whole, F1 2020 is the ultimate Formula 1 racing simulator. Fully licensed, extremely deep, and very detailed, Codemasters have done a wonderful job of bringing the brutality and unpredictability of the F1 season to gaming platforms across the board. The introduction of My Team is a breath of fresh air and will keep me coming back to F1 2020 for the foreseeable future. It really is an excellent game!
F1 2020 IS RECOMMENDED
If you enjoy more casual racing games, you may be interested in Gensou Skydrift. Or perhaps you might be interested in a racing wheel to play this with? We've covered the Thrustmaster T150 here.
Many thanks go to Koch Media for a PC review code for this title. 
If you'd like to see more articles from us, please remember to follow us on Twitter🐦 and consider turning notifications on. Or type in your E-mail address and click the button for free email updates. You can also come chat with us on Discord.
Support High-Quality And Detailed Coverage
Want to support the cost of us bringing you these articles or just buy us a coffee for a job well done? Click the Ko-fi button below. You can even find some digital goodies in our shop~!
Damien (dkpriory) has grown up gaming, from the humble days of the Atari all the way through to modern PC gaming. Unafraid to let a game steal his life for a few months, he is passionate about playing something immersive but also yearns for something to take him back to his childhood. Sadly no longer a member of the NookGaming team or creating content, but check out his archives on Youtube here.