Neko Ghost, Jump! has a rather self-explanatory title: you're a cat, you jump and you become a ghost. Well, obviously that's not the entirety of the game, but it is well over half of it, alongside other mechanics, visual style and story. 
This game is currently being developed by Burgos Games and is available on PC. It's simple to understand, but very far from shallow. It's important to note that Neko Ghost, Jump! is still in a pre-release state with quite a while to go until the official release – this means that many of the points explored in this review may become invalid in the future. It's also a very short experience as of now, with only a single tutorial world and five levels available.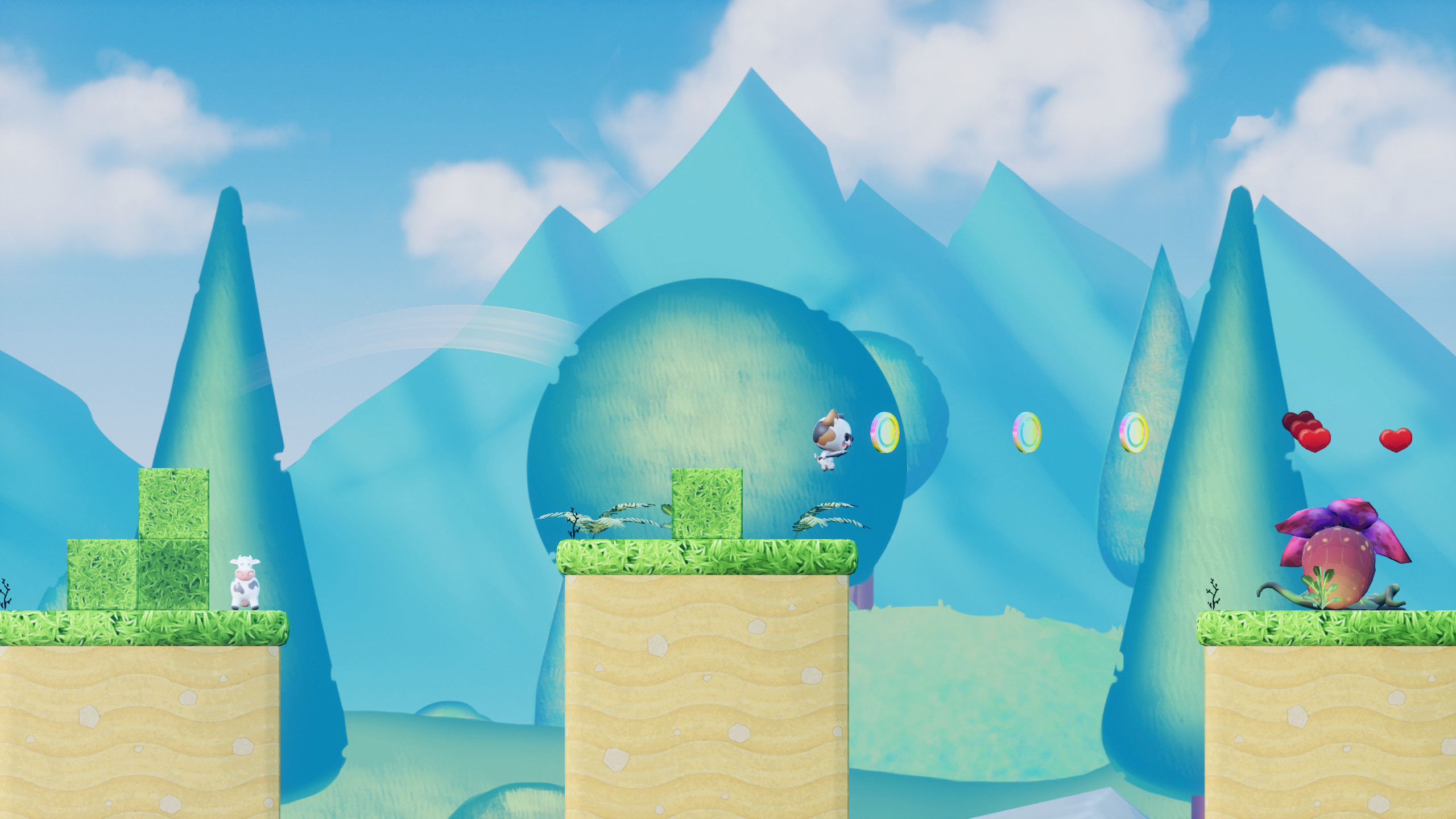 The first aspect you'll notice when starting the game is its adorable art style. It's a very cute game with colorful landscapes, characters, and foes. It's hard not to involuntarily "awww" at the sweet faces on every cat and delightful "hya!" noises they yell when jumping, attacking or dashing. One not-so-good aspect of Neko Ghost, Jump! (which I'll refer to as Neko Ghost from now on, for the sake of practicality) is its poor use of textures. Some of them are over-detailed in a world full of cartoonish models. The grass texture, for example, is rich in details, giving a weird look to the environment and contrasting with simple figures. Not only that, but I noticed a few textures appeared so stretched out in some areas they looked like the remains of someone who fell from the top of a 12-story building, especially in some very noticeable places, such as a pirate boat that takes more than half of the screen on a cutscene. I feel like Neko Ghost would benefit a lot from a change to a purely low poly 3D art style and a minimal to nonexistent amount of textures, keeping only simple diffuse materials to paint the environment.
Neko Ghost is like any regular runner game, but with a twist (or two). As far as "runner" goes, it can be pretty standard: jumping, collecting coins, altering the flow and course of reality itself… well, yeah, that's not "standard" at all, is it? It is, in fact, the main mechanic that differs Neko Ghost from other platformers. In short, it allows you to change the game's layout and perspective from 2D to 3D at any time to solve puzzles and overcome obstacles that were impossible to pass through in one perspective (kind of like in Paper Mario Wii). It's a very interesting mechanic, one which I'd never expect from a runner game, but provides a nice surprise nonetheless.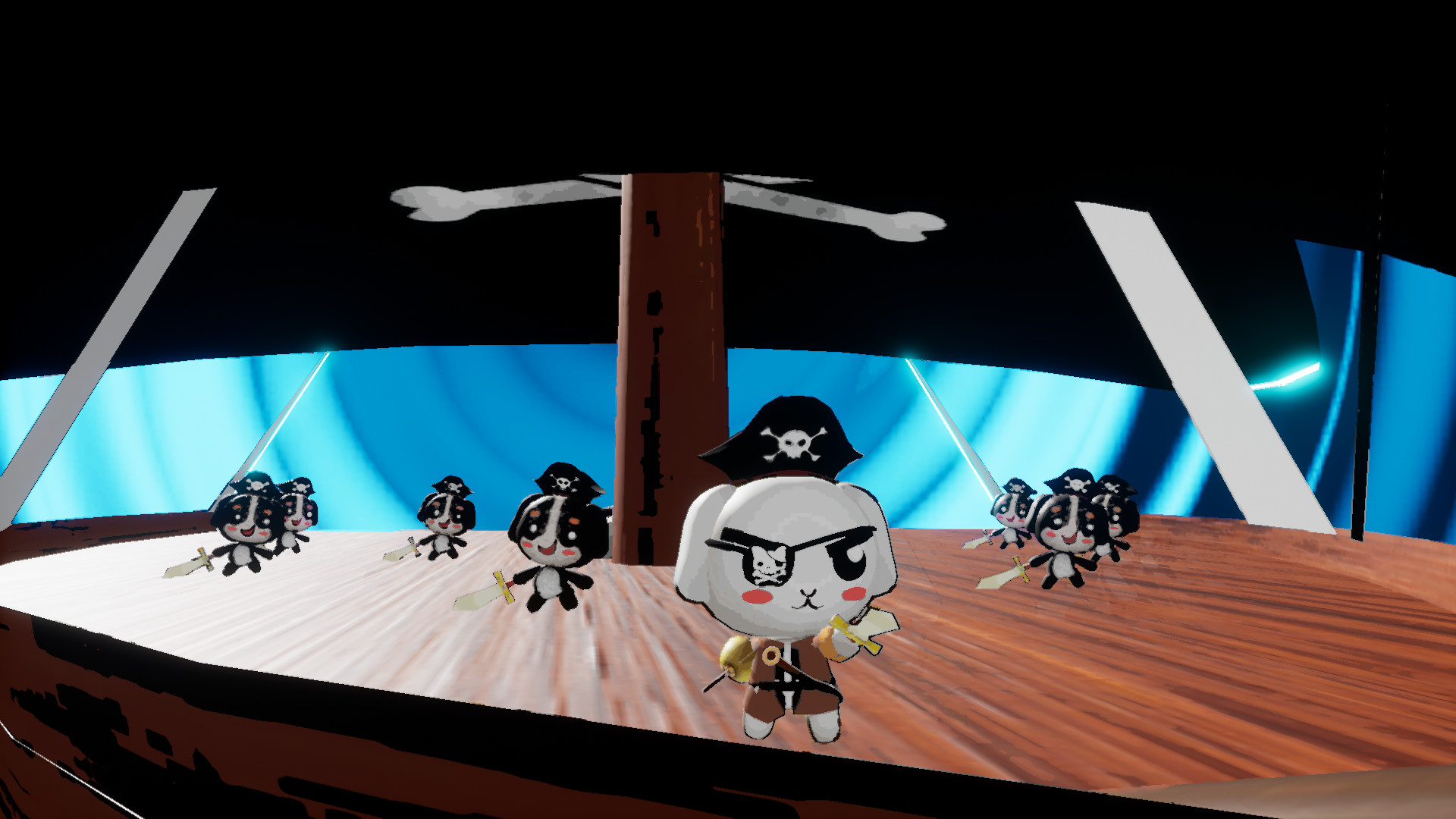 Another interesting innovation is the mechanic that lives up to the "Ghost" part of "Neko Ghost, Jump!": your soul can leave your body behind! Basically, you can leave your body stationary when facing foes, so your soul fights for you. Your original shell is still vulnerable, however, so you need to think before leaving your own body on the ground (now imagine this sentence without context). While in "ghost mode", your specter can still receive damage, but it's the only way to be able to fight. After doing whatever you had to do with your ghost, you can return to your body at any time. Fighting can be a bit clunky, however. It's hard to tell when your attack works, as they are very precise, forcing you to keep yourself up close and personal with your foes. 
The game describes itself as a puzzle/platformer, but in the short snippet of the game available as of now, the puzzle aspects were very minimal. Completing levels as fast as possible is encouraged, with leaderboards and timers only emphasizing this form of competition.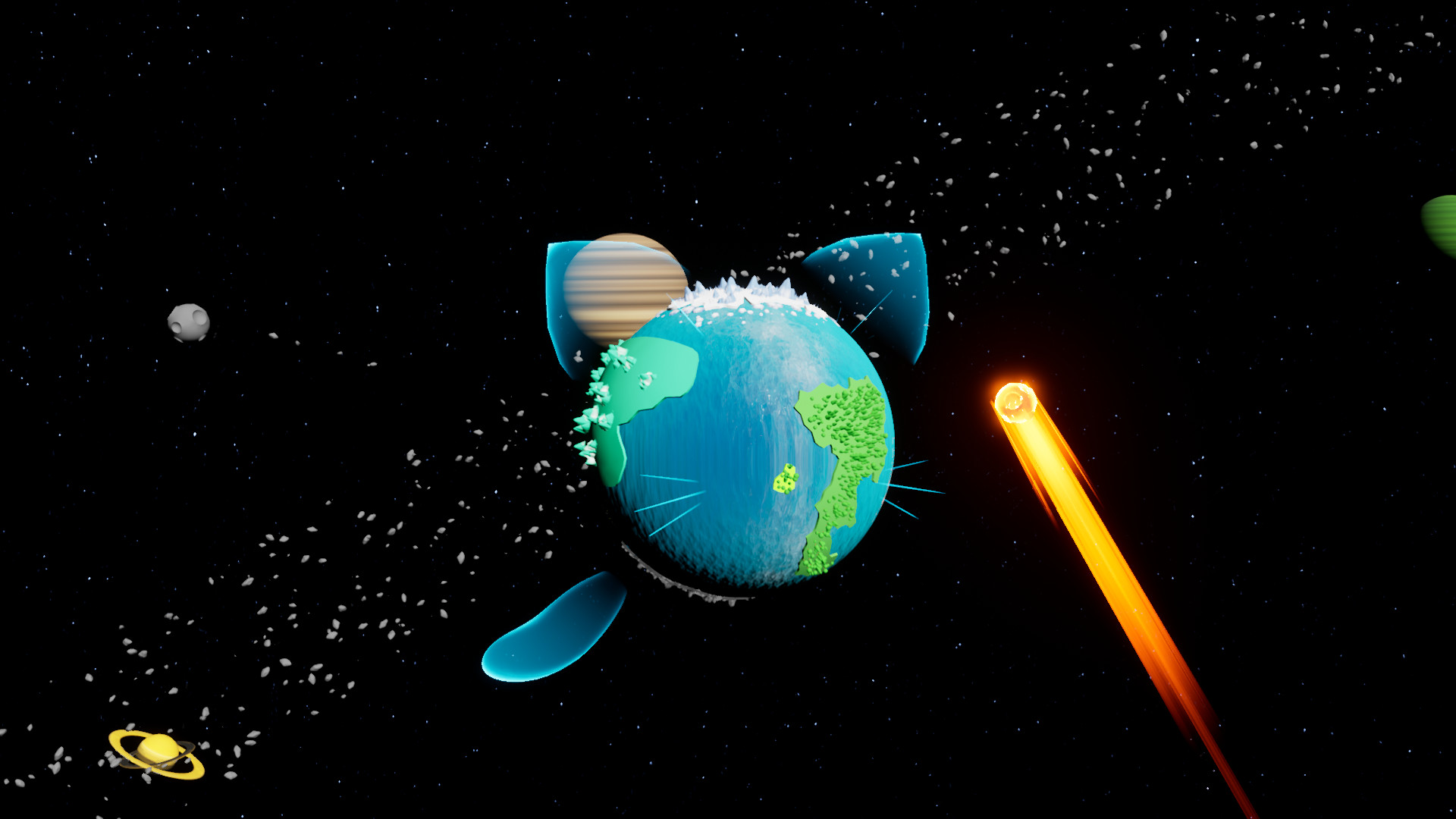 As far as the story goes, so far, the game only has a short intro cutscene in which alien pirates arrive on the cat-shaped planet, in the middle of a wedding, abducting the main character's relatives and firing a cannonball that takes the life of a friend as he tries to save our hero. It's not complex, as it should be expected. You can notice a fully realised story is not Neko Ghost's main focus just by taking a quick look at the game's Steam page.
Music-wise, there isn't much to say. The game currently contains only one colorful and cheerful song that, while decent, can get really annoying after the first 10 minutes. The developers will most likely add a wider variety of music for the full release, but I can only hope they don't select a single song to be played in every level of each world, for the sake of the players' mental health.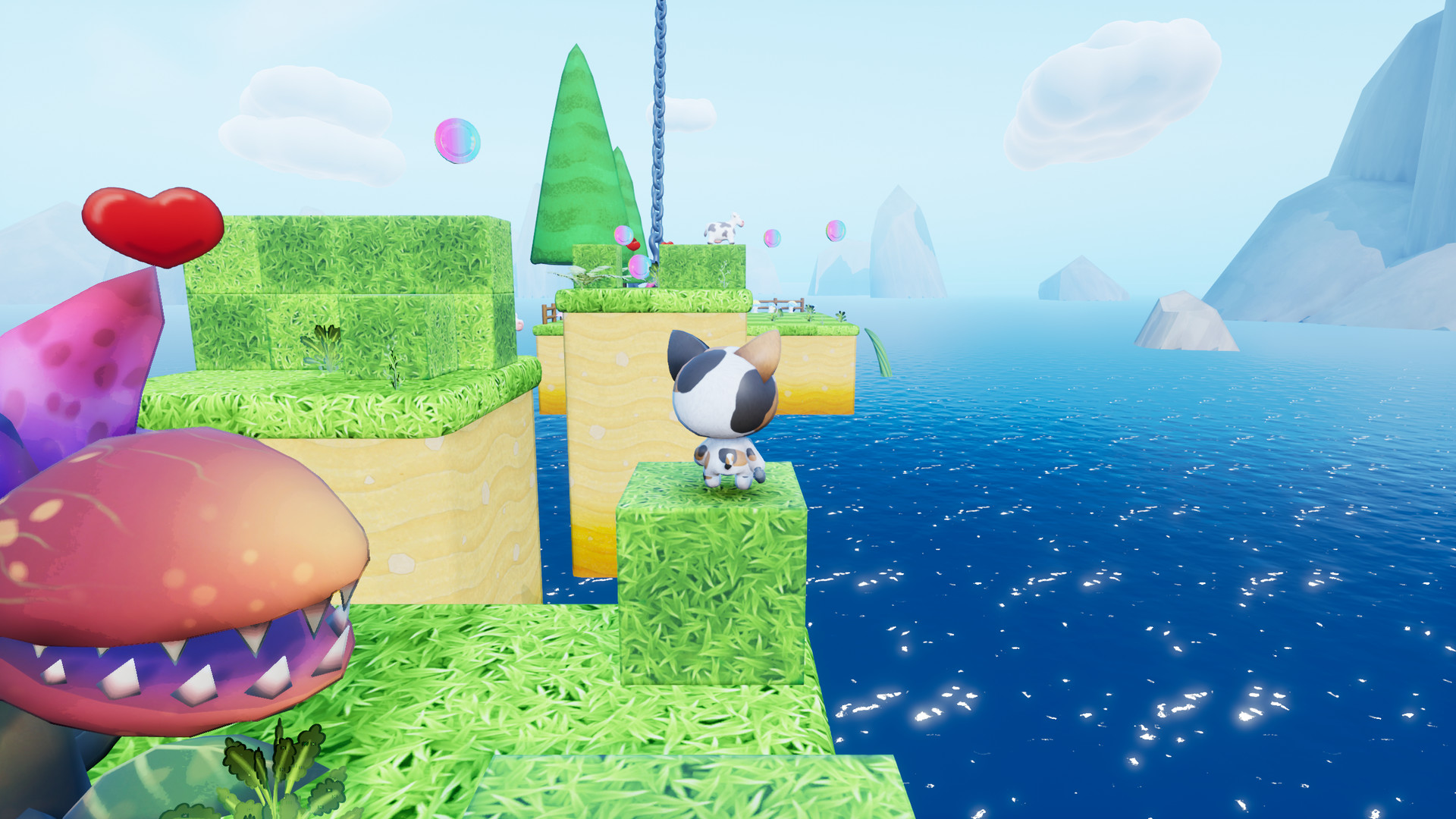 Neko Ghost, Jump! is currently too short for me to review it properly, but, as a first impression, the game does not disappoint. Presenting two innovative mechanics in its genre, it paves the way for what can hopefully turn out to be a great title in the future.
Many thanks to Burgos Games for providing a review code of the game, but it can be noted that all current content available to the reviewer is freely available in the public demo.

If you'd like to see more articles from us, please remember to follow us on Twitter🐦 and consider turning notifications on. Or type in your E-mail address and click the button for free email updates. You can also come chat with us on Discord.
Support High-Quality And Detailed Coverage
Want to support the cost of us bringing you these articles or just buy us a coffee for a job well done? Click the Ko-fi button below. You can even find some digital goodies in our shop~!
I am Atlas, hello. Honestly, there isn't really anything worth mentioning about myself, but I am required to create a blurb for this site regardless. I enjoy most types of games, especially stealth and FPS. I also like games with slow motion firefights and/or that feel realistic, as in, you and the enemies both die in the same amount of hits. Max Payne, Hotline Miami, DEADBOLT and My Friend Pedro are good examples.