Welcome to Distraint: Deluxe Edition, a game developed by Jesse Makkonen!
I am playing through this game on the Nintendo Switch, but it is available on PlayStation 4, PC, iOS and Android.
First and foremost, I wanna say that my first impression of this game was great, even before the menu even popped up simply due to the language options. To have Portuguese as an option (yes I am Brazilian, surprise! Not that anyone ever thought about it) was something I was genuinely shocked by and stared at it for a few seconds wondering if it was real. You've already got points with me, game. Let's see if you can keep it up!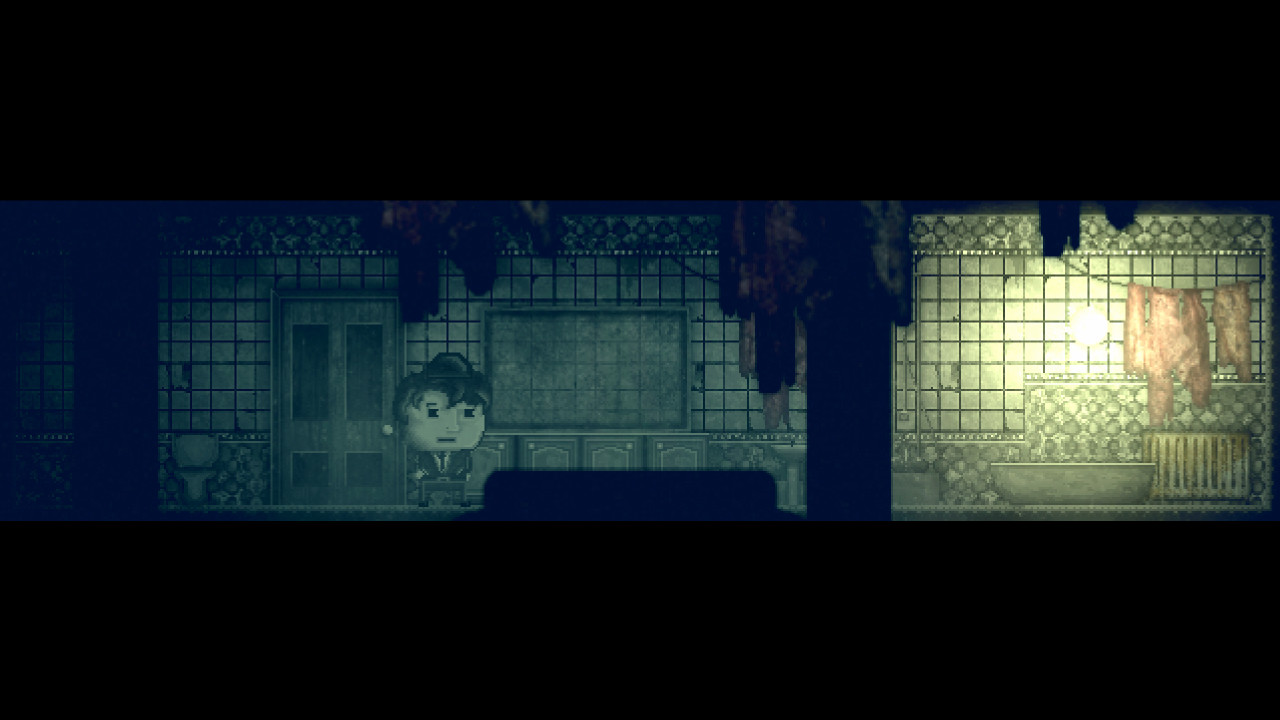 Reading the description for this game is enough to prepare yourself for what's about to come. Price, a male adult who lives in a bad apartment and wants to get higher in life, decides to sell his humanity in exchange for the hope he might achieve his goals. Through this game, we will see if that deal is worthwhile for him.
The game concept seems like the start of a thought-provoking film right? The story is something you experience along with him, seeing his decisions to act as not who he is, but who he wishes to be and move on to the life of luxury he always dreamed of. I can't say much more about the story without spoilers because this is something you need to see for yourself. What I can say is that I held my breath in anticipation and fear of what was to come. The game has that feel to it.
The characters are amazing, you feel quite attached to them and genuinely wish you could help some of them out who suffer the consequences for the choices Price makes. When I got to the end of the game, I had to stop for a bit in order to comprehend what just happened and try to relax from the overwhelming amount of events.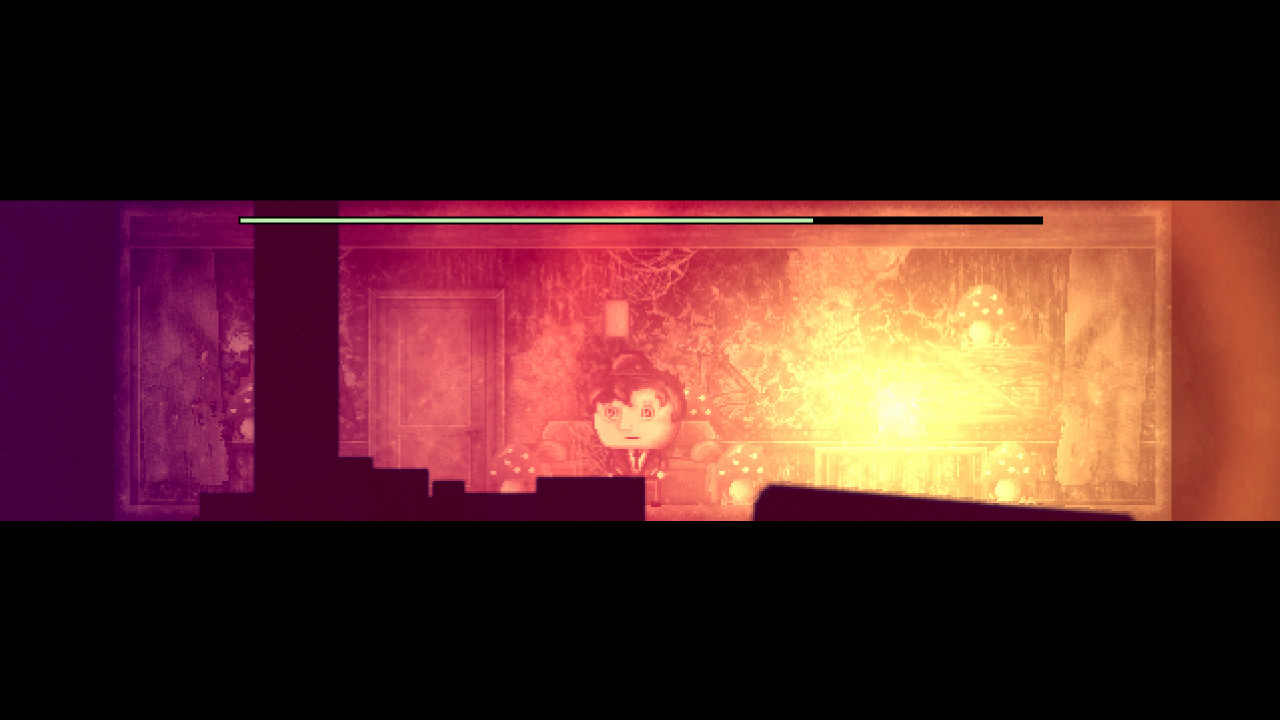 It's a fairly short game, about 3 to 4 hours but every minute is part of the amazing experience. There are no side quests and no back-tracking. There is just the raw emotional journey and Price's path to ascension as a man and his fall from grace as a person
The atmosphere is cold and at the same time amazing – it helps to set up the emotions it tries to invoke: Tension, fear of the unknown and what will come to happen. We share these feelings with Price, as he ventures through forests, retirement homes and the poor building he lives in.
The art fits the setting and tone of the game well. It uses darker color palettes in most cases to help express the tone of the game, and I might be wrong but I felt that it got darker and darker as the game progressed.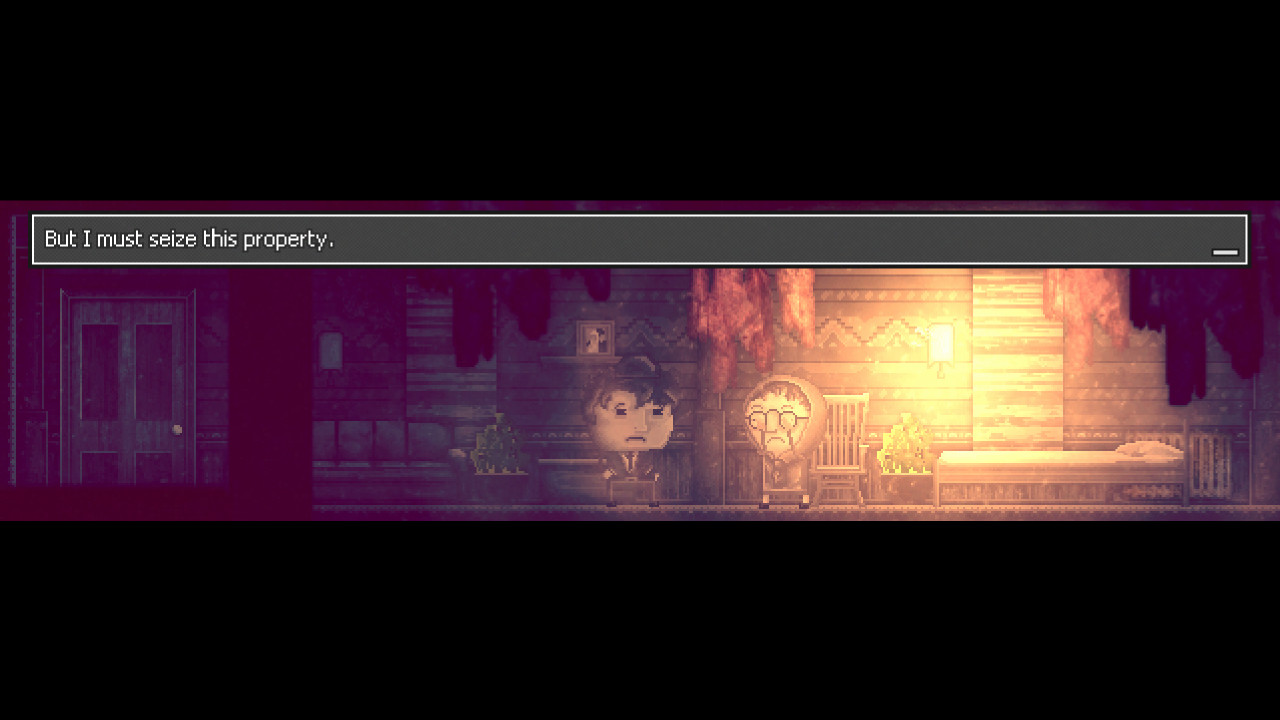 The bob-head style was another factor. While it made me grin at when I first started playing, sometimes it felt more creepy than if it was a normal person. It's another small touch that added to the atmosphere.
The gameplay itself is quite simple, but that was never meant to be the main aspect of the game. You play it like a 2D horror game, trying to explore the places you go to. There are some puzzles, but they are not hard at all. While you explore, you are also trying to meet the requirements for the life that Price always dreamed of.
I think the game would improve with small touches like being able to interact with doors and people with the A button and set the item to a different button instead of replacing normal interactions, that way you have less need to always open up the identity wheel. One small complaint is that the item wheel bugged me a bit. Unlike most games, you press R in order to trigger it but you move it with the A button instead of directionals. I got used to it over time.
Another aspect that adds to the atmosphere is the music and sound effects. I felt scared multiple times simply due to how real the sounds felt at certain moments and with certain interactions even in plain daylight. The music is also eerie without feeling forced – it uses simple tones that make you feel anxious for what's to come. I truly recommend playing this game with earphones on because you feel immersed and you can be like me who was getting scared and doing small jumps on my chair in the middle of a flight. Fun stuff.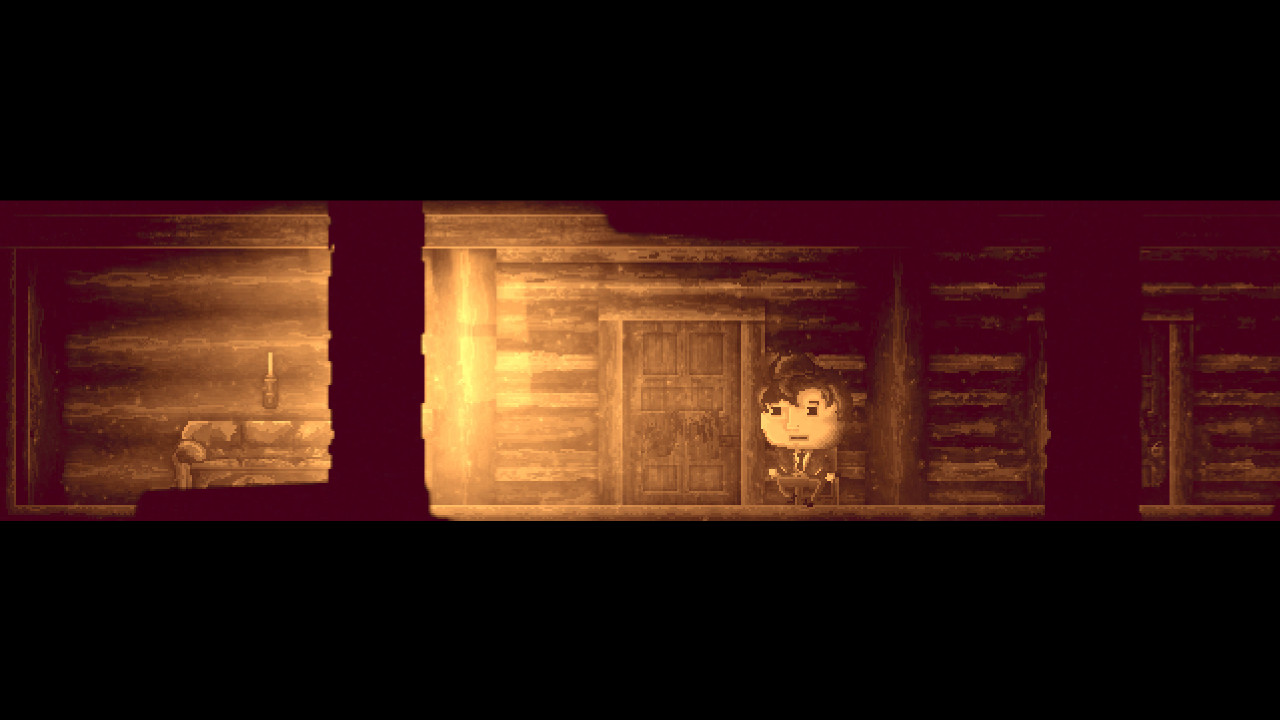 I recommend this game for anyone who enjoys story-focused games and wants to think about society as a whole. This game is phenomenal in what it does, but if you are looking for a gameplay-intensive game, this is not the game for you. Oh, and I hope you enjoy elephants! Now you will have to play the game to understand that. Good luck and safe gaming for you all! If you play and enjoy Distraint, there is a sequel already so you can keep going after it!
You can buy the game for PC on Steam or Humble Bundle. For console, the game can be bought on the respective PlayStation and Nintendo Switch stores. Purchases made via Humble Bundle links earn a small commission which goes to help supporting domain and server costs.
Many thanks to Ratalaika Games S.L. for providing a review code of the game.
Nick has been gaming for quite a while, a decade now! His first console was the DS but the first one played extensively was the Nintendo 64. He loves a huge variety of games, favourite genres include RPG, platforming, metroidvanias and visual novels.