One Night Stand is a short visual novel, which is almost all about your choices. With twelve different endings, your actions will reveal hints of what happened to you.
You can play this game on PC (Steam), PlayStation 4, Xbox One or Nintendo Switch. I played through this on the Nintendo Switch.
The story opens as you wake up after more than a few too many drinks. You have a terrible hangover and no memory of what happened last night. You're not wearing any clothes. There's a woman you don't know next to you and you don't recognize your surroundings – it seems that you've had a drunken one night stand.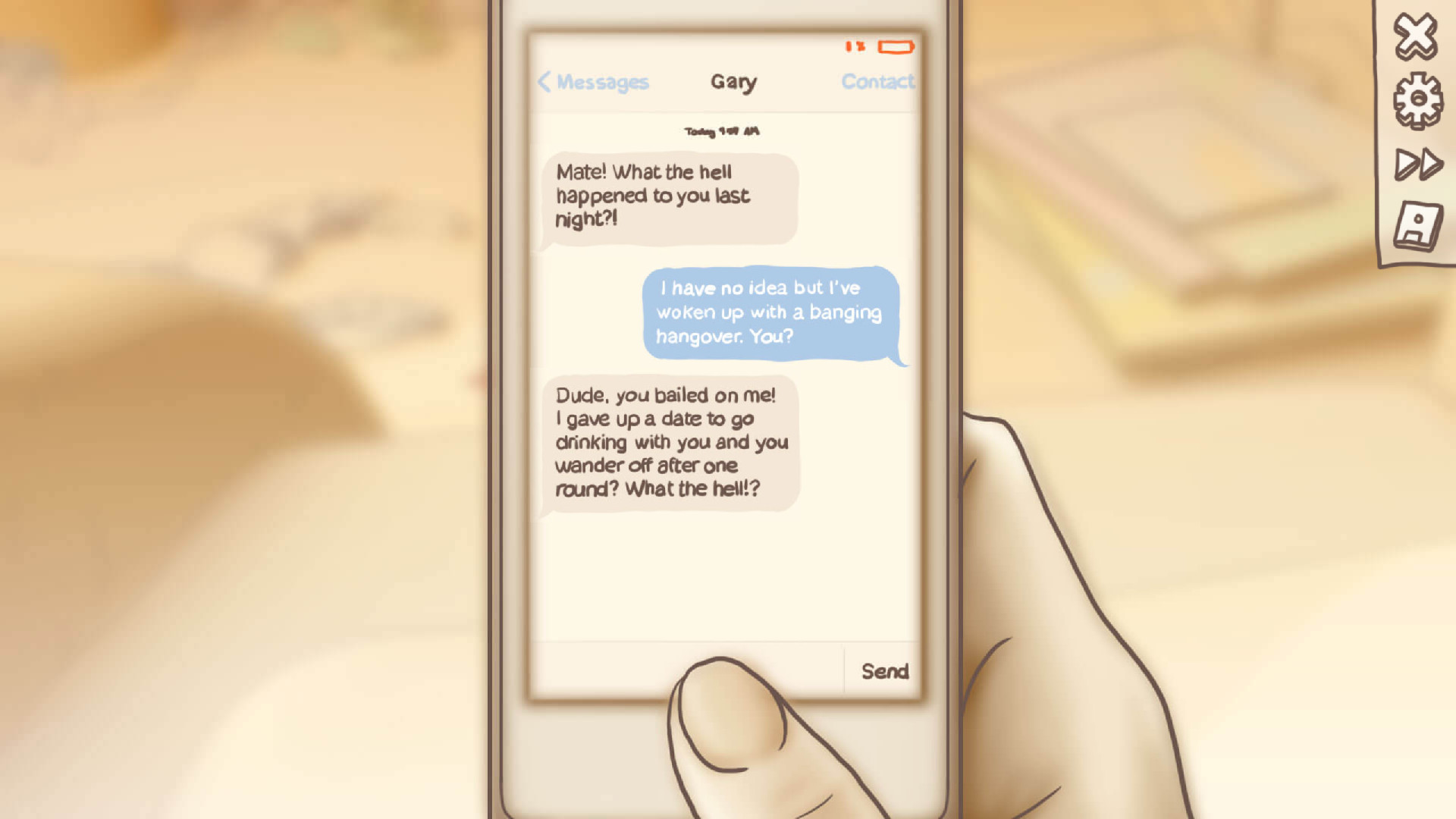 You receive a message from your friend Gary. He asks what happened to you last night after you disappeared on him. Unfortunately, your phone battery soon dies and there are no clues from Gary.
You have to both investigate your surroundings and talk to the woman to try and discover what happened. This involves two types of gameplay.
Soon after the game starts, the woman leaves the room. While she is away, you can investigate the various objects lying around. You switch the view around and click on items to check them. On the Nintendo Switch, you can use the touchscreen, which is a nice feature.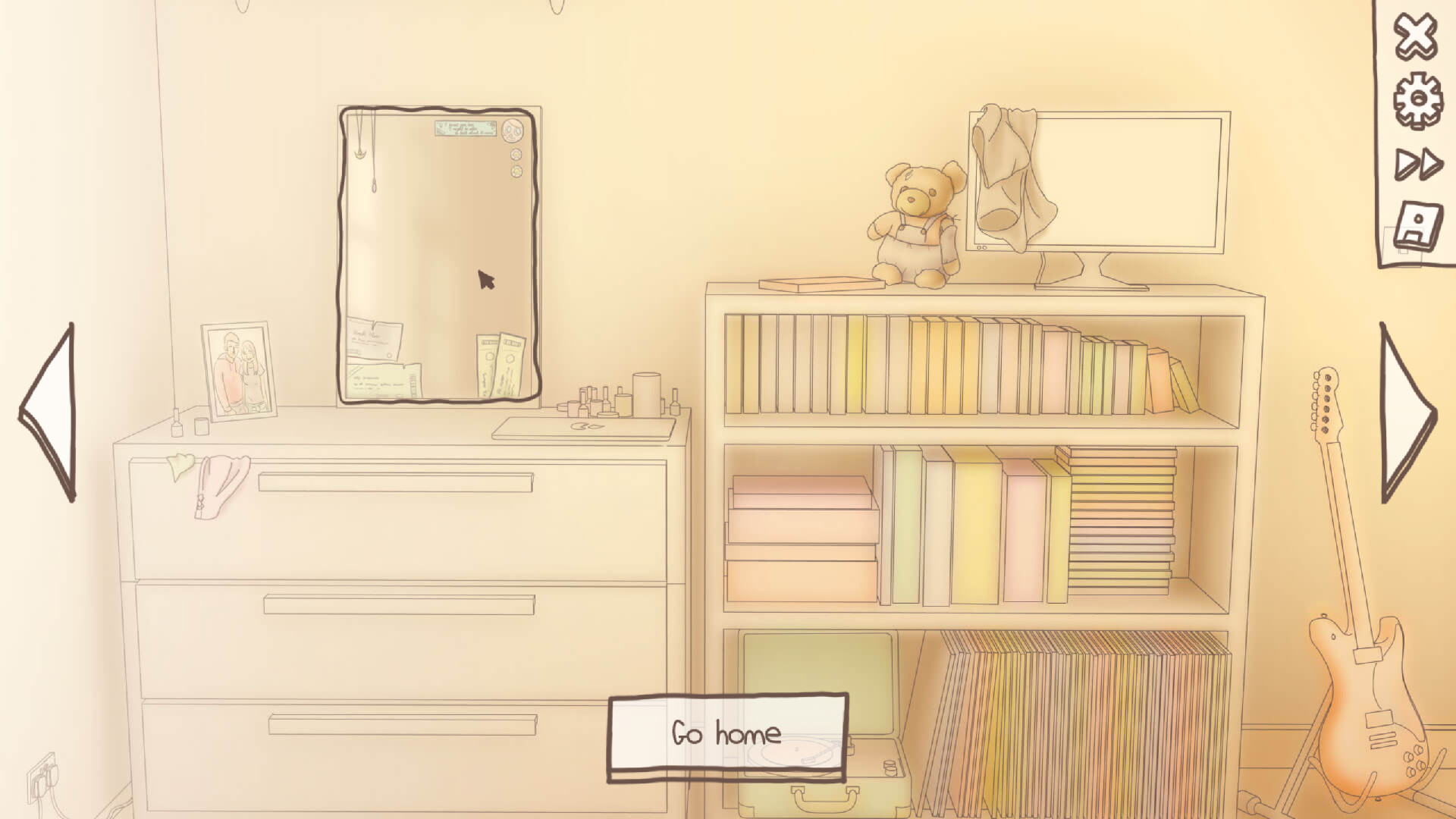 When you touch an item, you may find some sort of clue. Sometimes it's something about what happened last night. Sometimes it's something about the woman you've woken up with. You might even find your clothes if you're lucky. You can choose to be fairly intrusive with her personal belongings or more casually look around the room. The items you choose can influence both the ending and the next stage.
There are quite a lot of different items and it's an interesting way to learn more about this person you've woken up with. There are sometimes further options after choosing too, such as whether to believe something or what you think of her choices. You really do have a lot of flexibility, which is always a positive thing.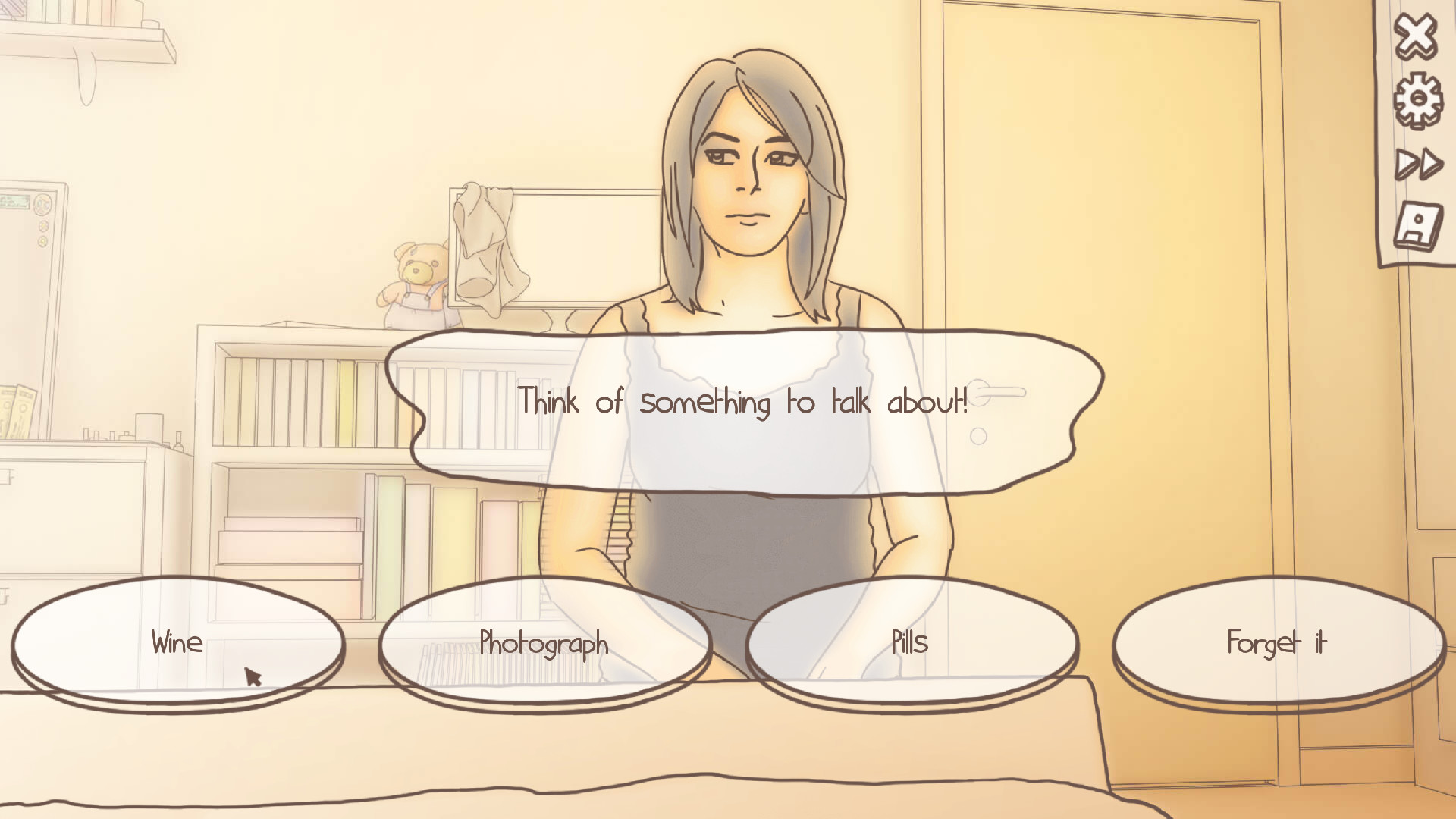 The woman returns to the room and talks with you. The script and dialogue options you are presented with depend on the items you chose to interact with. For example, if you click on her record player, you can talk to her about her vinyl collection. You can also choose not to talk to her about the items – you don't want her to know that you've been snooping after all!
The game continues with this pattern. The woman will leave the room, you have the time to interact with a few items and then she comes back and talks with you. This repeats a few times. Most of the general events stay the same each time you play, with the conversations based around the items being the major difference each playthrough.
Soon enough the game will come to an end. Depending on your actions, this could be a fairly positive ending to last night's encounter or a rather negative one. And when I say it soon comes to an end, I do mean soon. Each playthrough of the game only takes approximately five minutes. This is a very short game, which can be fully completed within an hour, particularly with the feature to fast-forward text which you have already read.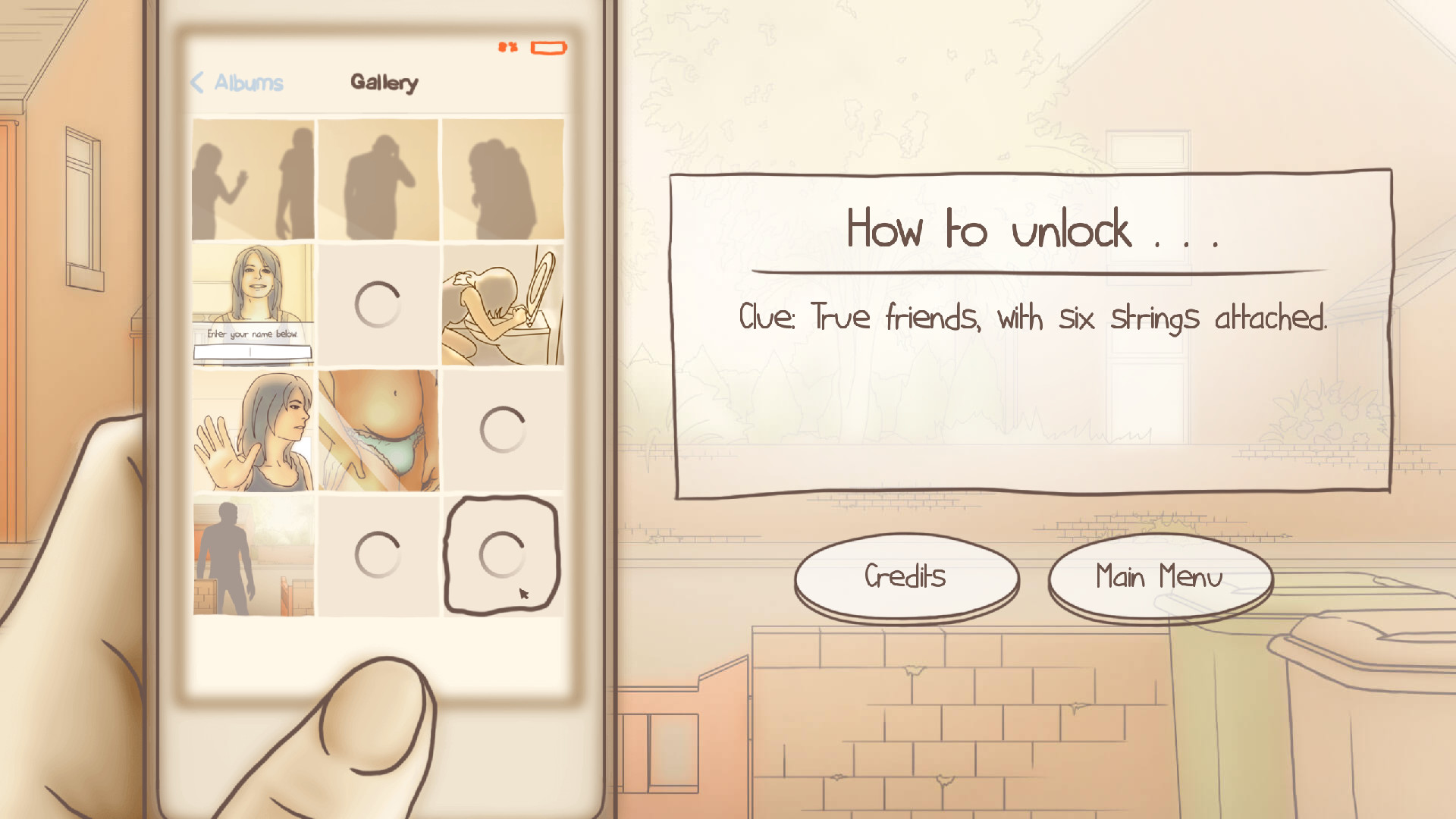 As noted, there are twelve different endings. There are hints on what these are and how to get them in a gallery. Most of the endings are reasonably easy to guess how to get, with only a few that are more difficult.
Overall, the story itself is nothing special. It's a short series of interactions that can go in different ways depending on your choices. As you repeat playthroughs and choose different options, you do get to build up more of a picture of what is going on, which does make things a bit more interesting. Some of the comments made can be quite amusing too.
Moving on to the artwork, it's worth pointing out that the style is quite unusual for a visual novel. Rather than the standard anime style or even a more realistic style sometimes used, an unusual style with less detail is present. While simple, it is also partially animated. You can see her moving around, gesturing and changing her expression. This really adds a lot of life to the game.
I can't say that the sound particularly stands out. It uses some basic sound effects and a background track.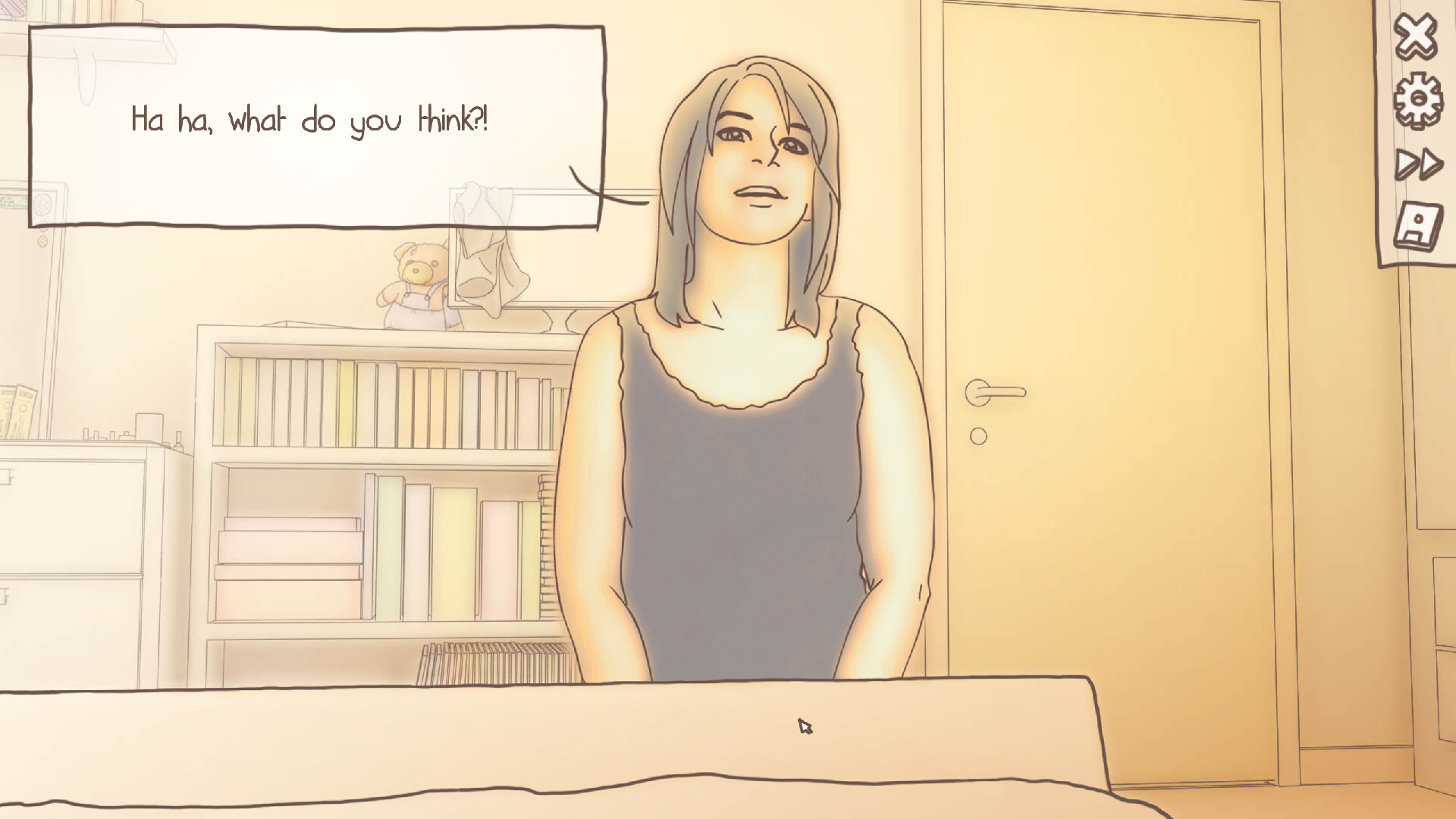 Overall, this is an incredibly short experience but an interesting one. I'd usually hesitate to recommend a visual novel of this length, but between the cost being next to nothing and the sheer amount of choice, I feel like it does earn the recommendation.
ONE NIGHT STAND IS RECOMMENDED
One Night Stand can be bought on Humble Bundle or Steam for PC, or on the respective console store.
Many thanks to Ratalaika Games for the review code.
Links may contain affiliate codes that help pay for the server and domain costs of the website.
If you'd like to see more articles from us, please remember to follow us on Twitter🐦 and consider turning notifications on. Or type in your E-mail address and click the button for free email updates. You can also come chat with us on Discord.
Support High-Quality And Detailed Coverage
Want to support the cost of us bringing you these articles or just buy us a coffee for a job well done? Click the Ko-fi button below. You can even find some digital goodies in our shop~!
A gamer since the days of Amstrad and DOS and someone who has dabbled in a variety of professions. He enjoys a wide variety of genres, but has been focusing on visual novels and virtual reality in recent years. Head Editor of NookGaming. Follow him and the website on @NookSite.