Introduction
Hop onto this boat, grab some sunscreen and join us as I'm your captain in this adventure towards the sea. Let's raise our sails for this grand voyage to your Summer in Mara, developed and published by Chibig.
Before anyone says it, my grandfather has a boat and I'm the third captain in line in my family. I'm more than equipped to lead our expedition. The NookGaming crew was really excited about this game, so it was only fair that the one with the most experience was gonna oversea it. I enjoy farming games, maybe even a bit too much but in a healthy dose. The highlight of Summer In Mara? This game gives me The Legend Of Zelda: Wind Waker vibes. That's the way to harpoon my heart and drag it to my attention. The time has arrived to see if it hooks me in well or if it's a loose cannon!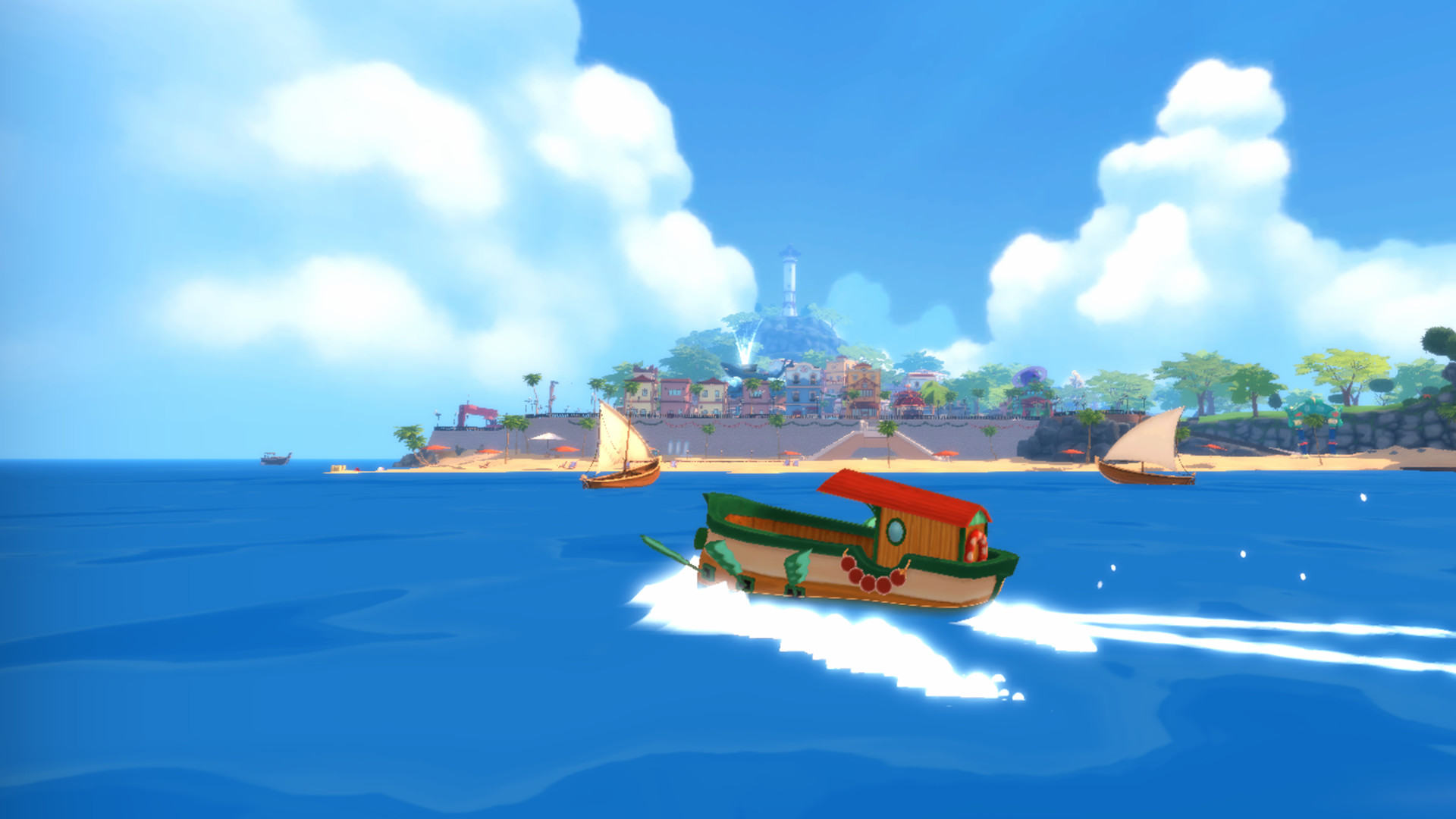 Story
Summer of Mara revolves around Koa, an orphan girl – and cutest thing ever – raised by Yaya Haku, an elderly jellyfish-human looking hybrid granny. She finds her alive in the wreckage of a ship near the main island the game revolves around. Summer In Mara starts with a quick tutorial set in the past that shows us the life of balance they live. It also shows their lifestyle; how they eat fruits that came trees. How they'll then plant it back after thanking each natural aspect for allowing them to survive another day. The story will then go over the following years and with the time that passed, Yaya has sadly died due to unknown reasons.
We skip to a more grown-up Koa. Still a child at heart, she is now alone on the island and takes care of it by herself. She is also tasked with having to deal with maintaining the balance of the island. Eventually, that same balance gets broken when the 3 stones, situated on a door that brought equality of peace and darkness, have all gone missing. It's up to Koa and a friend of the Mara species to bring them back and end the chaos that is about to begin.
This is quite a simple story, but it allows for the exploration theme to run freely so it does its job well enough. I'd like to point to the Studio Ghibli vibes too. With all the different species you interact with, every single one is lively and gorgeous.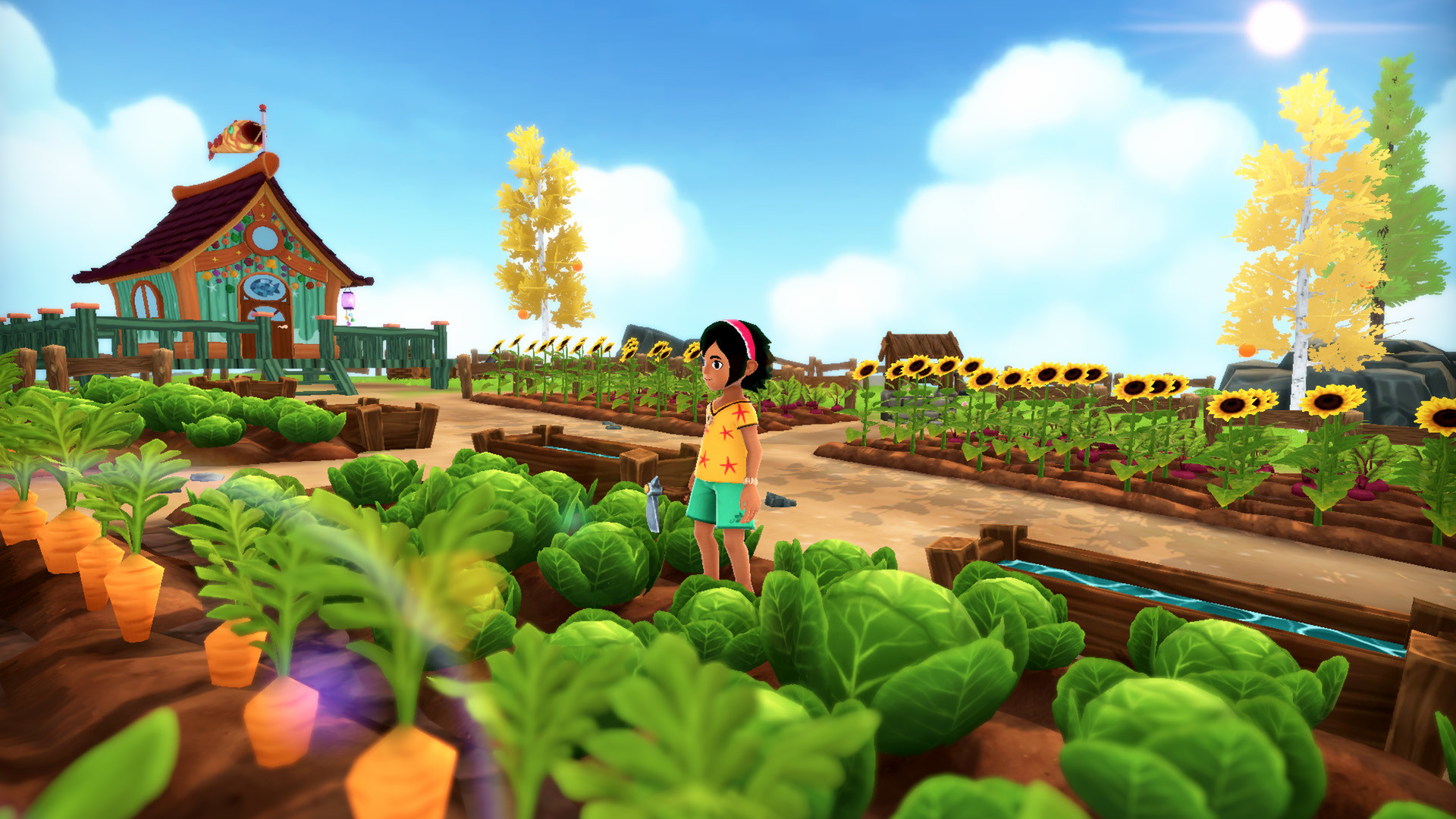 Gameplay
Now we march to the gameplay portion and that's where things get a little rough. The controls in this game were quite simple to get used to once I knew what to do and I felt I had a lot of flexibility with movement – thank Poseidon for no fall damage. I also liked the blessing of being able to change tools with the mouse roller; a great decision. It helped make farming easier.
Speaking of the farming, while I do appreciate the gameplay contained within it, I think by trying to focus too much on the adventure, the farming aspect was left behind. The sense of upgrading by unlocking new seeds on each island you visit is great and it gave me a sense of bringing souvenirs to the homeland. Having to always navigate from an island to your home though is quite a tiresome aspect after a few times. And paying to quick travel is tough since I didn't find myself with a lot of money, so that was thrown out and left to sink. The farming itself isn't all that intuitive either. You can exploit it by sleeping the nights away at your good ol' home for the days a certain crop takes to grow. Without having to water it and with no calendar system, nothing is holding you back from doing so.
On another note, most activities in your own town are given no tutorial. I had to discover for myself how to do it and let me tell you, fishing was the most intense thing I did that day. It was also by accident. You do come to appreciate your own island as you progress on it and reap the results of your investments eventually. At the start though, along with breaking the "take and give back" mentality because you need so much but can offer little, your island feels very weak for a summer vacation, despite its beauty and sense of comfort.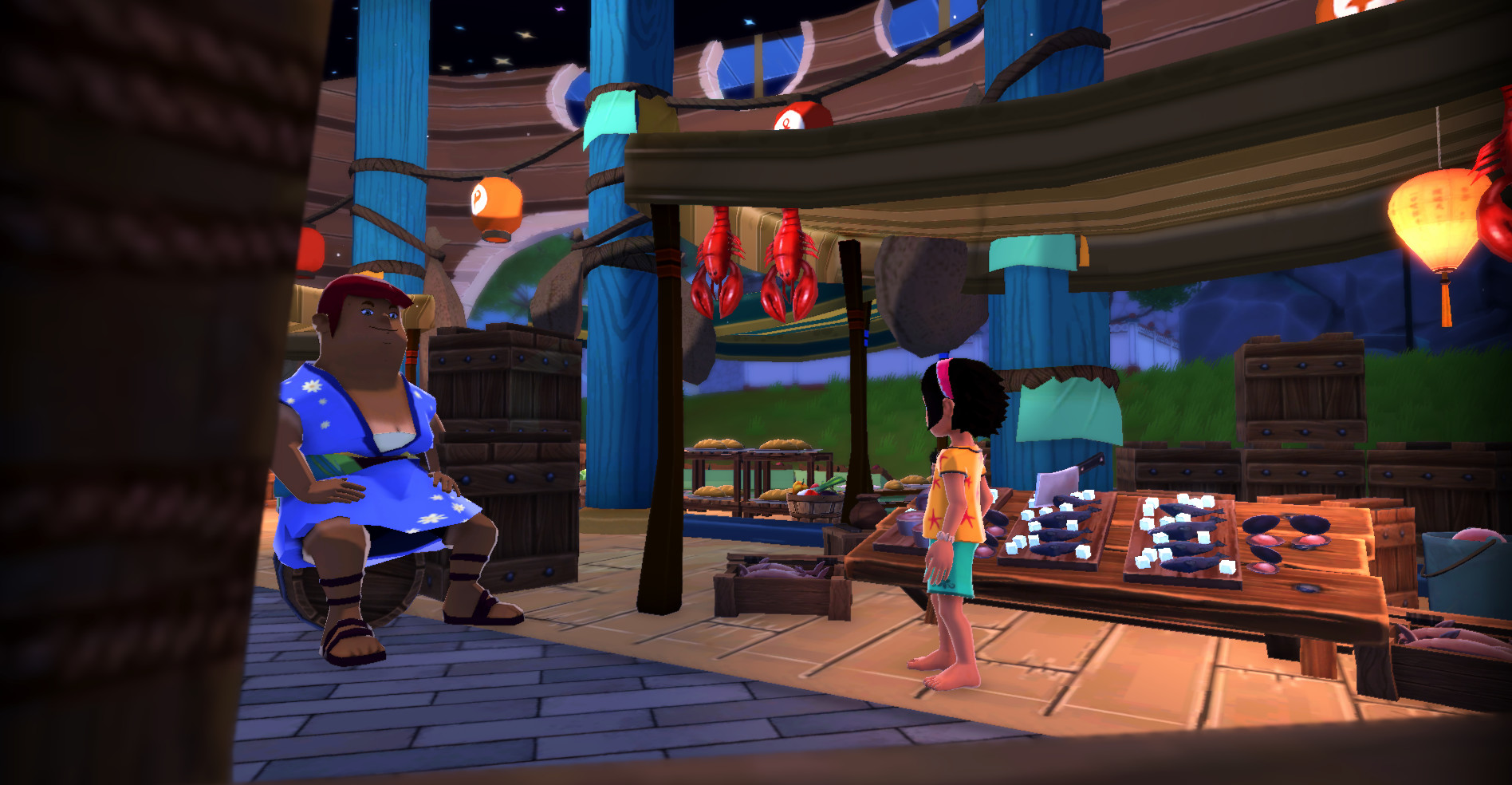 It's time to flip to the other side; Let's focus on the adventuring part now! As you proceed into the story, you are given access to different villages and islands you can journey to. The boat is quite fun to go around on, with some interactions along the way as well. I do wish it was a bit faster as you will see the ocean a lot with the number of fetch quests the game throws at you; we'll get to that. Each city has its own likable characters and I did enjoy their company, so that's a plus of the traveling as I enjoyed meeting each personality. Having to jump so much from one to the other left me a bit exhausted though.
Fetch quests are a common occurrence in this game, even more so than finding pirates with parakeets in movies! Dealing with them would be easier if the game gave you a quest marker. Instead, you're stranded and need to discover what to do yourself. I will say, they are normally easy so that stops them from being frustrating at least. With time, you do end up getting used to places, which was fun. It just took a while. Also, only being able to craft stuff at home set the precedent for the backtracking mentioned earlier. A simpler UI would be appreciated to facilitate the process but hey, look at how good these characters look!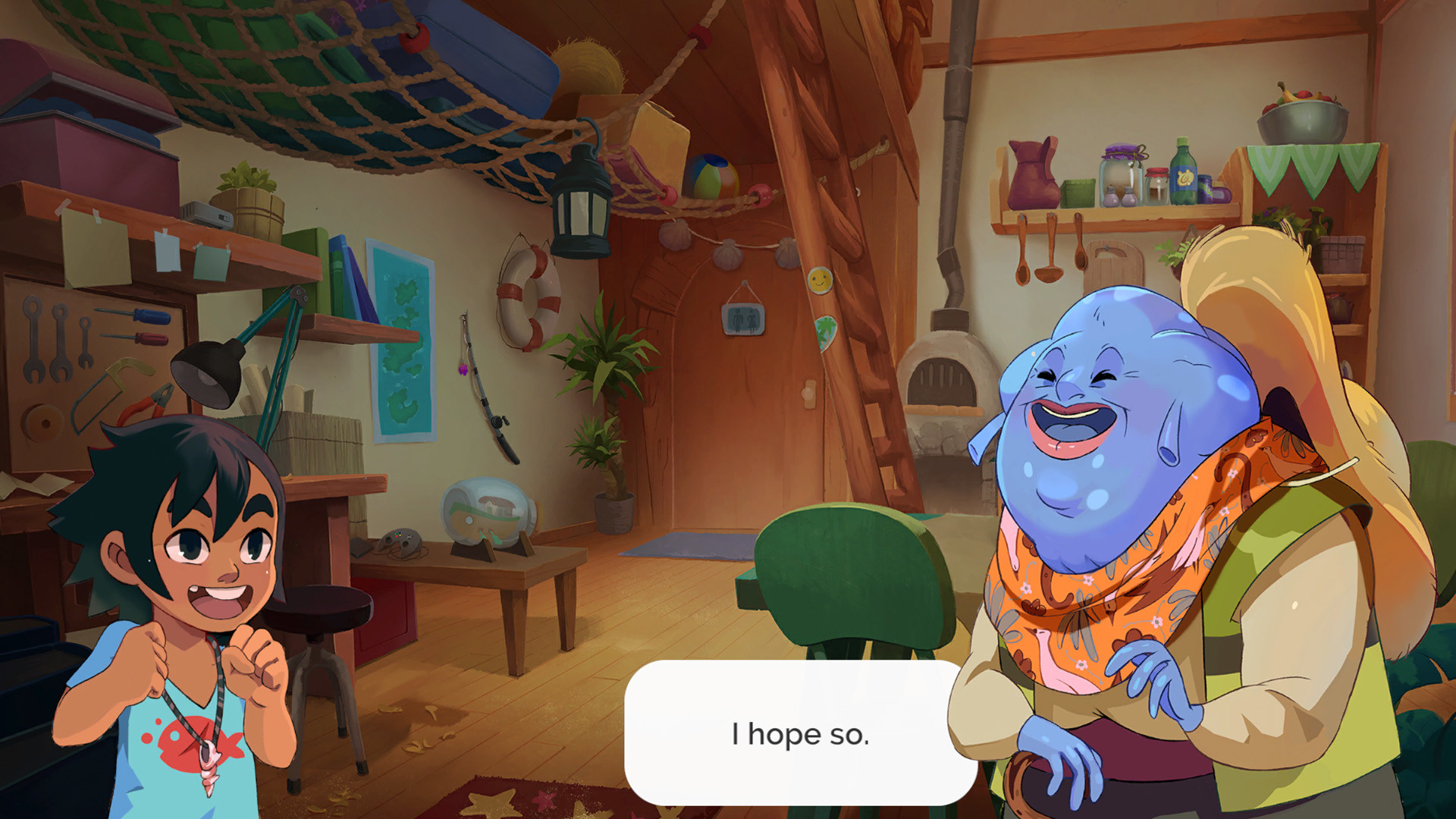 Presentation
Speaking of character design, let's jump on that boat. The sprites in this game and the overall visuals are astonishing. The first cutscene after the tutorial could've been ripped straight out of an anime or animated movie – I'm dead serious. The game's vibrant colors are great, the design is well distributed, and even characters from the same species are easily distinguishable which helps keep them separate in your mind. The music is quite calming, and I can admit I was humming the main menu theme to the four winds as I wrote this. I did so while also looking out at the ocean so hey, you got me there.
Verdict
If we could make a comparison, Summer in Mara is like a Picnic. The presentation and the planning behind it are great and the execution is a fun experience. Then you start dealing with ants, kids throwing balls and possibly hitting you, or people smoking. All this leaves you in a situation where you enjoy the experience, but you also wish you had planned it better. In other words, our great summer in Mara has masterfully presented the design and characters for it to be an astonishing game. Farming and traveling aspects came across as a bit underwhelming. There's also some quality of life changes needed.
In conclusion, Summer in Mara was still good despite the hiccups here and there. Competitors such as Harvest Moon, Story of Seasons, and Stardew Valley might be better known, but this is a simpler and perhaps more relaxing experience. With a beautifully created world that may remind some of Disney's Moana, this title certainly has its positives. With that said, our suggestion is…
SUMMER IN MARA: WAIT FOR SALE

Platforms: PC, PS4, XBox One and Nintendo Switch

UPDATE: Since writing this review, the reviewer has reported that Summer in Mara has added features for both fast travel and crafting on other islands. This alleviates some of the issues experienced with adventuring.
If you enjoy farming adventures, you may enjoy our review of Rune Factory 4 Special.
Many thanks to Chibig for a PC review code for this title.
If you'd like to see more articles from us, please remember to follow us on Twitter🐦 and consider turning notifications on. Or type in your E-mail address and click the button for free email updates. You can also come chat with us on Discord.
Support High-Quality And Detailed Coverage
Want to support the cost of us bringing you these articles or just buy us a coffee for a job well done? Click the Ko-fi button below. You can even find some digital goodies in our shop~!
Nick has been gaming for quite a while, a decade now! His first console was the DS but the first one played extensively was the Nintendo 64. He loves a huge variety of games, favourite genres include RPG, platforming, metroidvanias and visual novels. No longer a member of the NookGaming team, but still here in spirit. Follow him on @NickMendz.