Before I begin, there are two things to say. First off, this game has two modes of movement: Mixed (smooth locomotion and teleportation), and teleportation only, so if you feel disorientation when movement is simulated in VR, you've got nothing to worry about with this game, and you can play this game just fine. Secondly, the game is available for PSVR, Valve Index, Windows Mixed Reality, HTC Vive, and Oculus headsets. I played it on the Oculus Rift S.
My feelings about The Wizards are a bit mixed. I'll start with the stuff I liked about the game. First off, the graphics are pretty realistic, which is always good. Especially in VR. Some of the monsters in the game, like the dragon that you see in one of the first two levels, and the revenant boss, look awesome!
You start with 3 spells: a fireball, an arcane shield, and a bow of ice. As you complete the first few levels, you unlock new skills, including arcane projectiles, sith lightning, and an expandable fireball. This game really does make you feel like a wizard. You have to cast the spells with hand motions, like flicking your wrist to create a fireball, and then throwing it by, well, throwing it, or swiping your arm to the side to create an arcane shield. It's awesome! Most spells have an auto-aim based on how long you are looking at an enemy, so you don't have to worry much about accuracy. It's worth pointing out that the spells are upgradable too as you continue playing the game. Each spell has some unique attributes which can be added to it.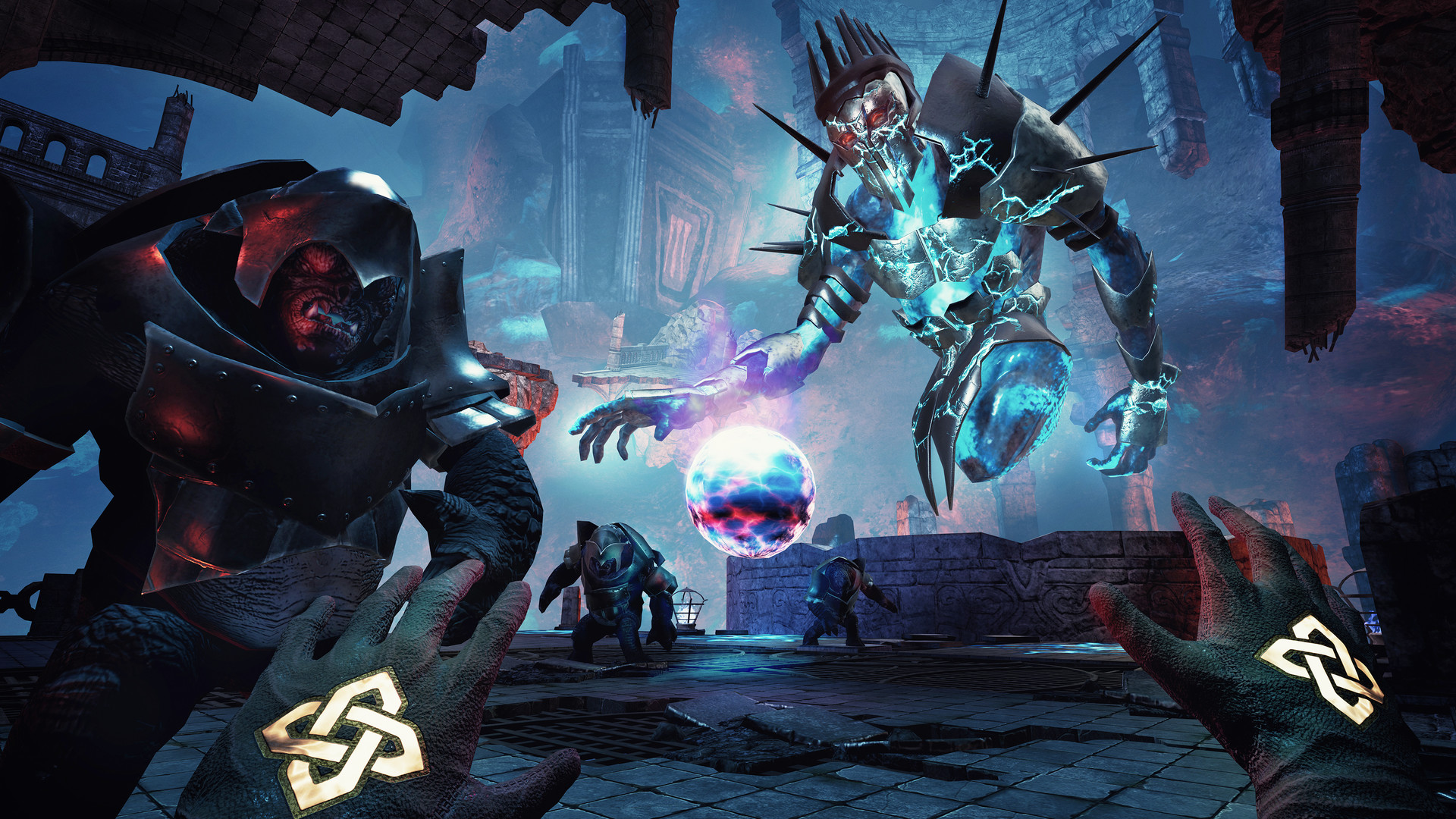 The first boss fight is also really good. There's a lot of stuff to dodge and block. He summons smaller enemies to attack as well. It's not too overwhelming, or too difficult, which is nice since it's only the first boss in the game. This continues until the final boss fight, which is more challenging, but not overly difficult as long as you use the full range of your abilities.
The gameplay mostly consists of fighting enemies, exploring, and a little bit of puzzle-solving, but the puzzles are fairly simple things, like throwing a fireball at a wall that is very obviously destructible. As a bonus, there are some props and stuff on the map that are destructible. There's not much of a point in throwing fireballs at statues, but it's fun to watch them explode!
There is some story in this game. It's nothing which overly stands out I admit, but it allows for a few cut scenes and a narrator who occasionally pops in while you play. It does help keep things more entertaining, as well as giving hints and tips.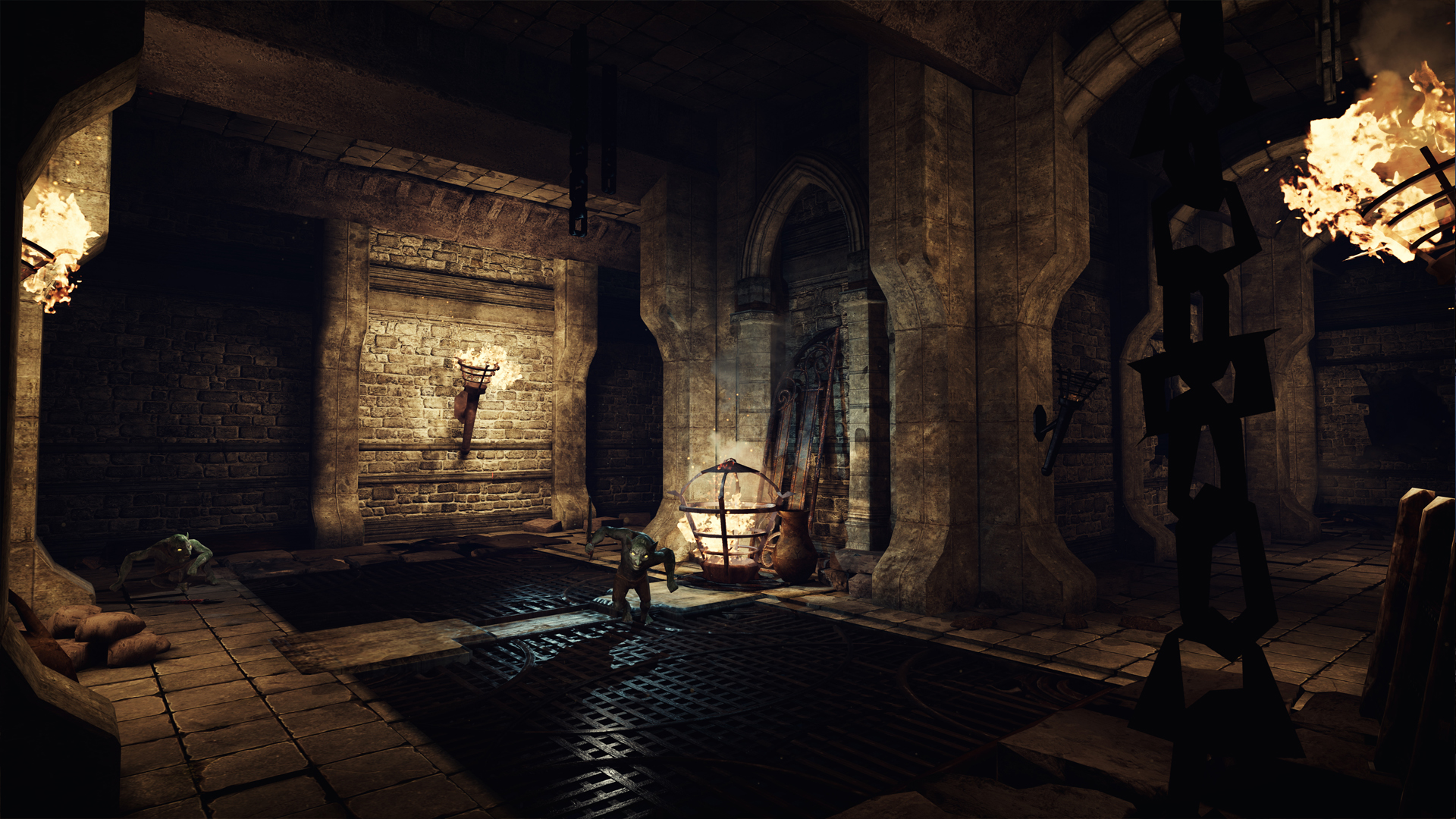 A note on the exploring. Those who dislike teleportation will be sad to hear this one; There's no option for pure smooth locomotion. There are certain areas in the game that you need to teleport to be able to access. This does not come up too often though and should not bother most people. Those using the Valve Index controllers may run into issues though – one of our other reviewers has had issues playing as the thumbstick only seems to partially move the character. As an update, a patch has been issued on the release date of this review. The patch solves the issue with the Valve Index controllers and the reviewer has confirmed that they work without issue now.
Around the level select area of the game, there's a box with some cards. These cards are modifiers. You can find new modifiers throughout the levels, and you can apply a total of 3 modifiers at once. Each modifier makes the game easier (by doing things like giving enemies less health) or harder (by doing things like giving enemies extra health). Modifiers affect your final score in the level. Making the level harder will raise your score by a small percentage, and making it easier will lower your score by a small percentage. If you like competing with others, you can try playing through levels with modifiers to get to the top of the leaderboard, but aside from your placement on the leaderboard, the points don't do a huge amount. It does add to the replayability though.
In addition to the story mode, there is an arena mode where you can fight waves of enemies. If you just want to cast spells and fight, this is a nice quick way to get in.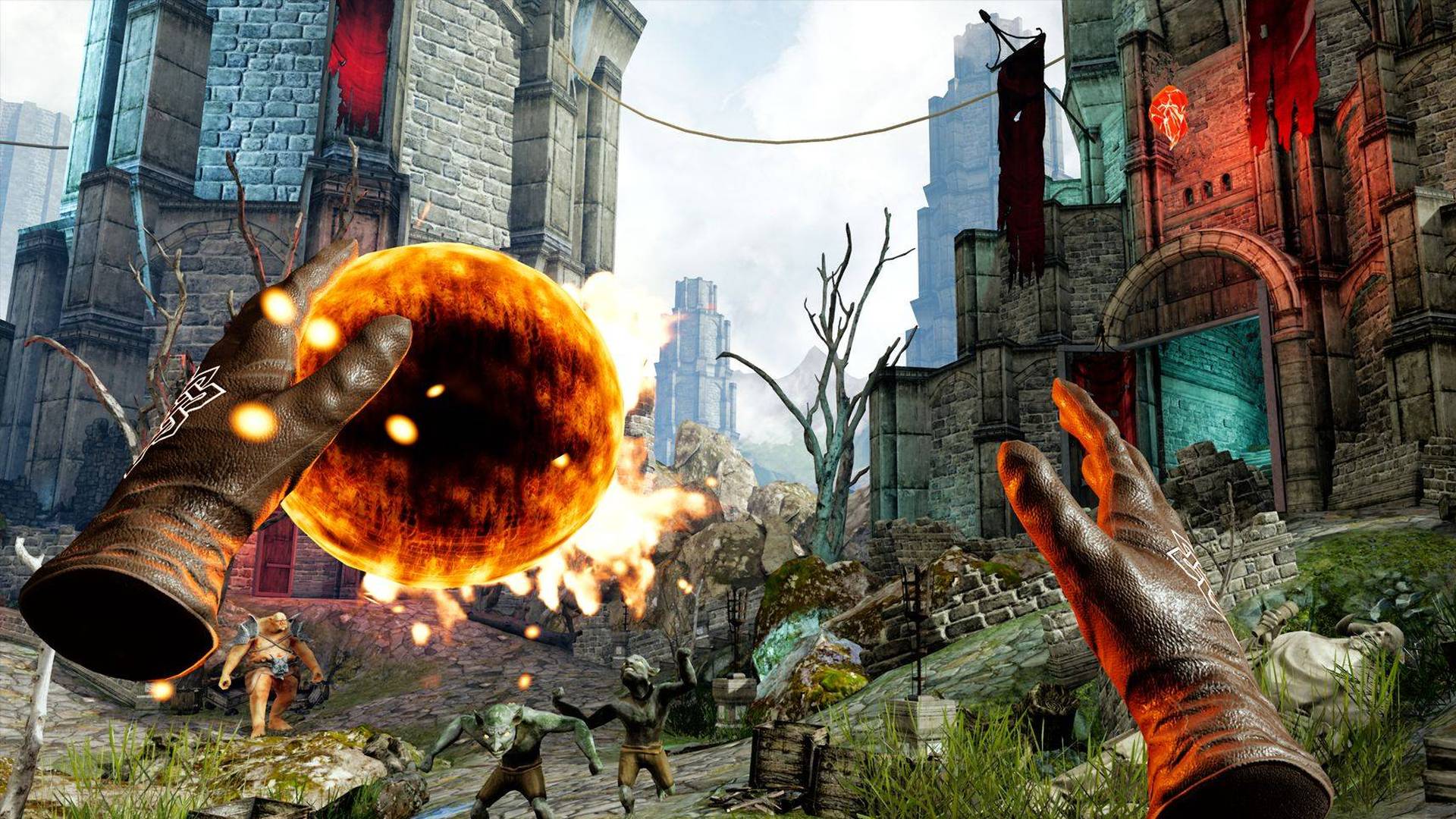 With that said, I only really have two problems with the game:
1. While the gameplay is fun, it gets pretty repetitive after a while.
2. It's a rather short game. It can be fully completed within a few hours, if not counting replaying with modifiers or endlessly fighting enemies.
So, if you want to feel like a wizard, casting spells and fighting goblins and orcs in a fantasy world, I'd recommend this game. But if you dislike games that are a little bit repetitive, you might want to find something else to play.
The Wizards Enhanced Edition can be bought digitally on Steam, Oculus Store or the PlayStation store. To support the server and domain costs of this website, it can also be bought from Humble Bundle here. It can also be bought physically for PlayStation VR via retailers such as Amazon (US)/Amazon (UK)
Thank you to Carbon Studio for providing a review copy of the game.
If you'd like to see more articles from us, please remember to follow us on Twitter🐦 and consider turning notifications on. Or type in your E-mail address and click the button for free email updates. You can also come chat with us on Discord.
Support High-Quality And Detailed Coverage
Want to support the cost of us bringing you these articles or just buy us a coffee for a job well done? Click the Ko-fi button below. You can even find some digital goodies in our shop~!
Shattered Sans is not a picky gamer – he particularly enjoys RPGs, puzzles and open world games but is open to games of all genres. He used to write reviews for the fun of it, but stopped due to other commitments. No longer a member of the NookGaming team.