We are going Max Mode on this, so grab yourself some paper, pen and a pinch of drama so we can go straight into our review of Root Letter: Last Answer, a visual novel developed by Kadokawa Games. This game was initially published in 2016 – 2017 for the PS Vita, PlayStation 4, PC, Android, and iOS but re-released in 2019 with the Last Answer version, which includes extra content. This was released on the PC, PlayStation 4 and the Nintendo Switch, which this reviewer is playing on.
The story revolves around our 32-year-old protagonist, who you can name, but will always have the nickname Max so we will call him that. Max lives in Tokyo. One day as he is rearranging some of his property, he comes across the letters he used to trade with his penpal from 15 years ago: Aya Fumino. Most of the letters are about the slow bonding of two high school students, but one letter he has never seen before surprises him. In this letter, Aya admits she murdered someone and claims she would pay for her sins, and with it cutting her ties with Max.
After reading that letter, Max decides to pursue the truth by heading to Matsue, a countryside city in the Shimane prefecture, to try and track her down. His first surprise occurs when he discovers Aya's house was consumed by a fire a long time ago and that her mother died in the flames. I could say more than that but let's leave that mystery hanging for now.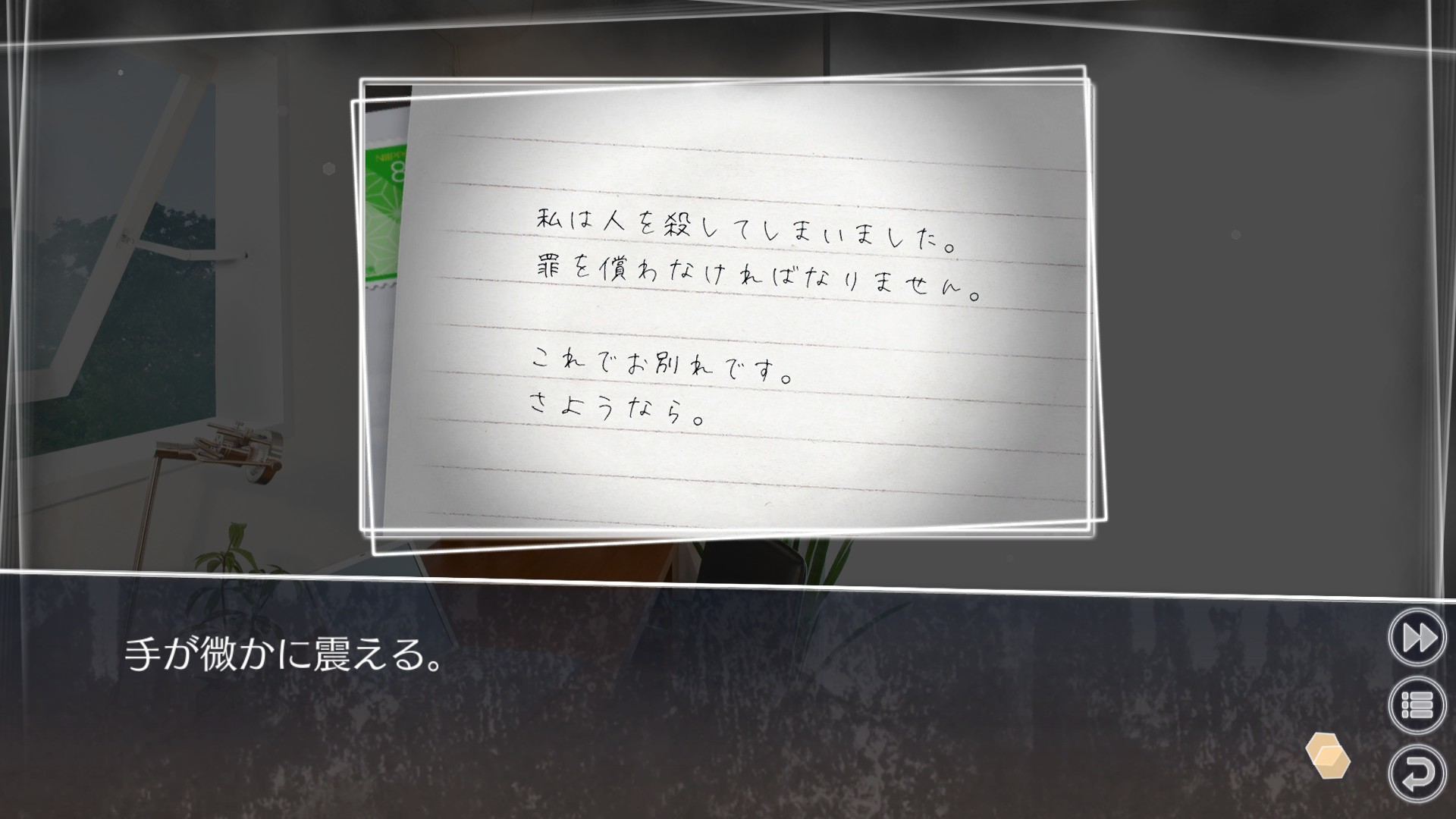 Without much guidance, Max now only has the letters Aya used to send him about the city and most importantly, the 7 friends that she bonded with the most: Monkey, Four Eyes, Bitch, Bestie, Fatty, Shorty and Snappy. To find out what was truly the fate of his penpal and the secret they all seem to share, he will have to investigate them all.
As you can see, it's quite an interesting setup and the tension keeps rising with information constantly being added that changes what was thought. This new information keeps adding more and more layers to the rabbit hole of Aya Fumino's fate.
The first chapter takes quite a while since you don't know anyone in the city to help you out and you only have vague clues to guide you. After you get past the start of the story, each chapter focusses on a different letter which talks about one of Aya's friends.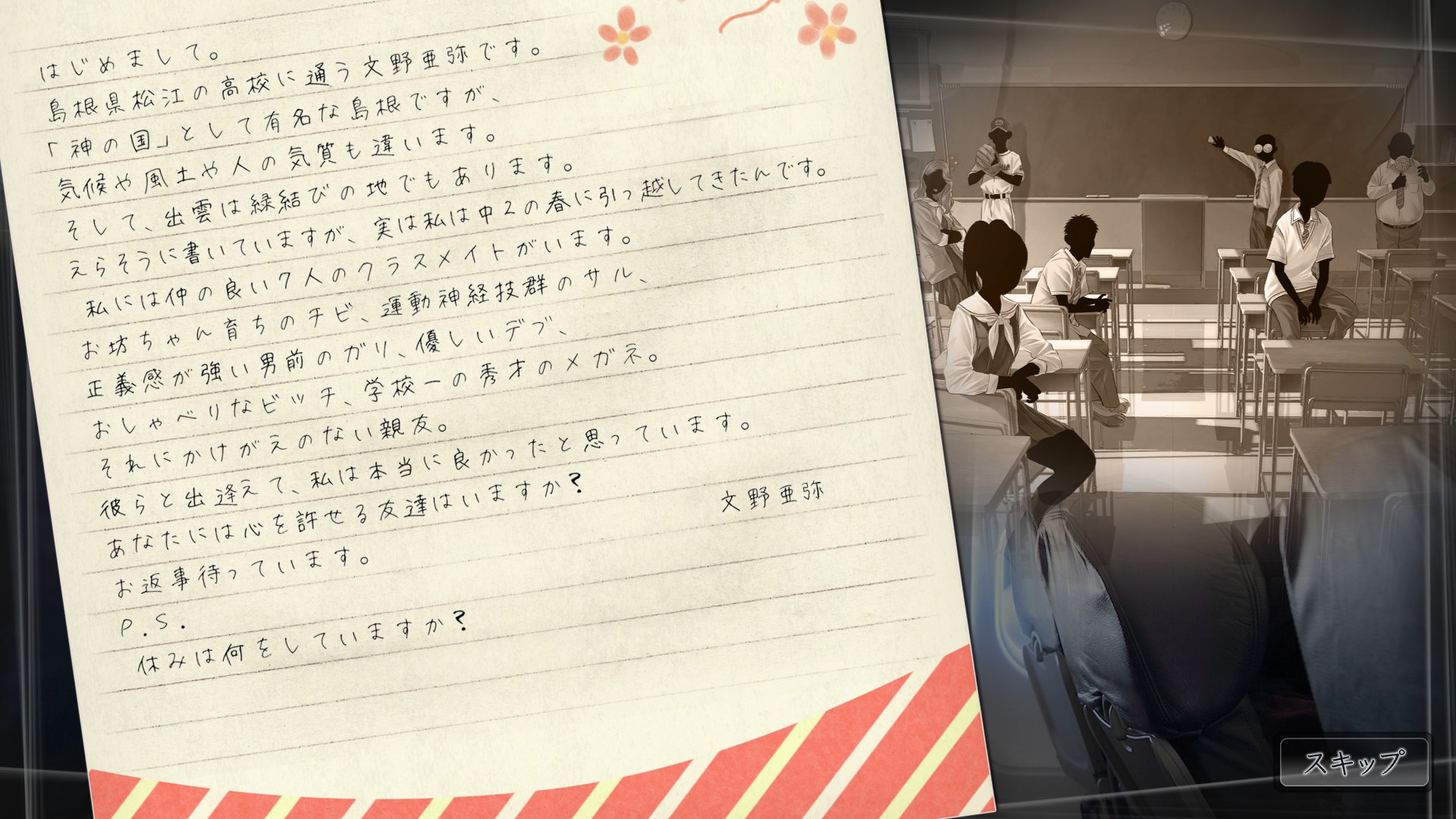 The gameplay for the investigation portion is akin to what some would call an "adventure game", much as Ace Attorney was called. Both games have some strong similarities.
In each chapter you gather clues that can help you find who the nickname refers to in the city, exploring each piece of it, bit by bit. You have several options in this aspect of the game. You can use 'Think' for you to evaluate the situation and to get some tips on what to do next. You 'Inventory' to bring up items you have obtained that might help you. 'Check' to see if there is anything in the room you are located that can help you. These are some of the abilities you can use to find clues and move the story forward.
When it comes time to go face to face with the person you are searching for, it's interrogation time! The interrogation mode is quite fun in this game and pumps up the tension with an epic fade in to showcase how the evidence supports you as you get closer to the root of the problem. There is also Max Mode which exists to put more pressure on the victim but it is mostly to show Max's personality and doesn't add much to the interrogation itself. To me, the interrogation feels like a worthy conclusion to the time you spend building up your "case" for each of Aya's friends and fits well in the story.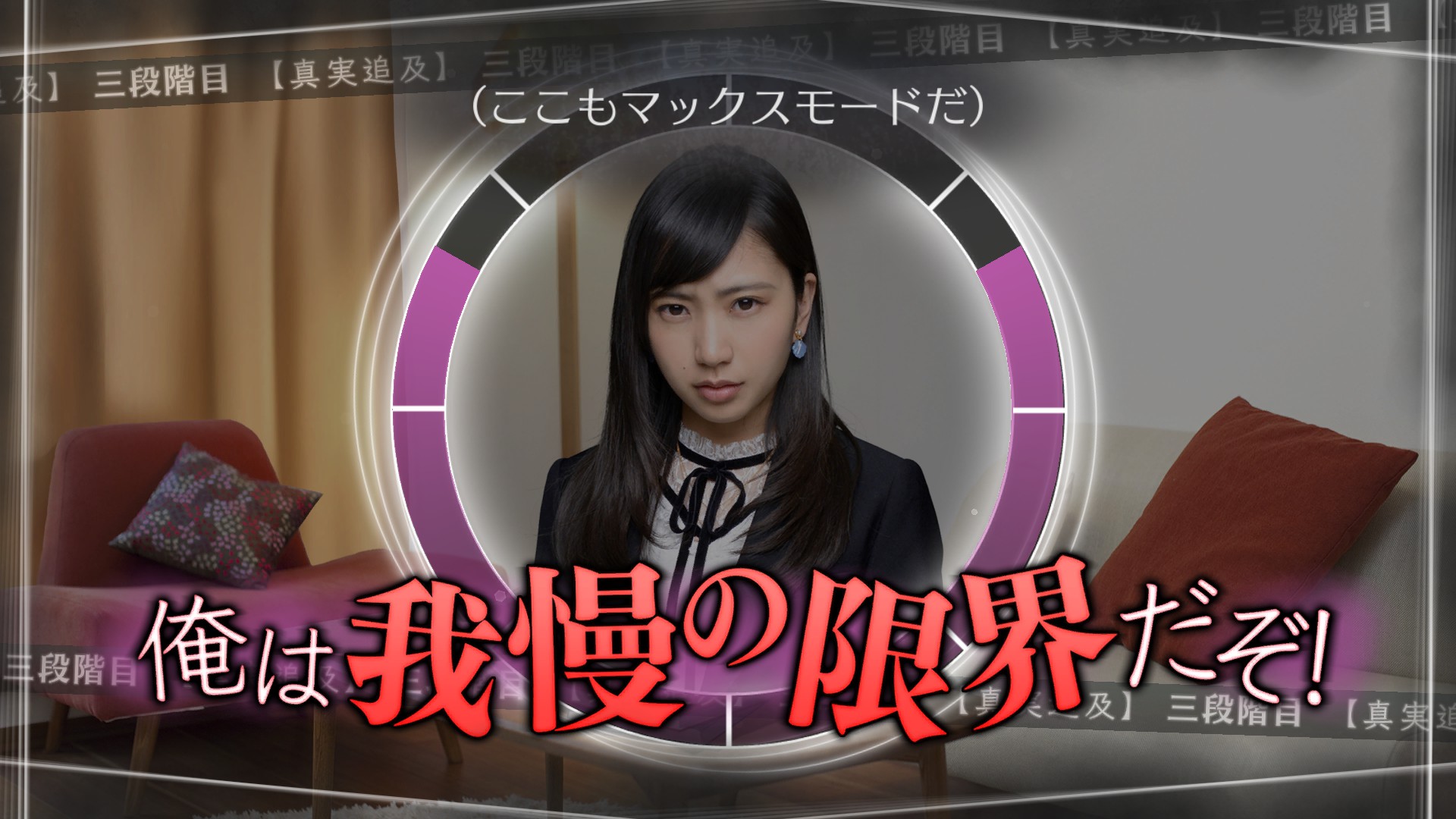 Speaking of Aya's friends, I would like to add how much I enjoyed each of their stories and how their lives are shown. They have each taken a different path in life but some of them still meet each other in their free time, showing how they do have a strong bond, but their secret of the past has created some sort of tension among the friends. They all are portrayed realistically in how they act threatened to see someone hunting for information from an event 15 years ago. It was great to see them coming back together years on, even those who dislike each other now to defend themselves.
To me, there isn't a main character who stands above others in this story. The star for me is Matsue itself. The city is huge and full of colors. It was brought to life in this game with many of the details and key points laid out to explore and wonderful people to meet who bring it to life. It would be amazing to go eat at Kamiari-an, then go to the Mirror Pond for a love fortune-telling, before going back to the inn for a hot bath to finish off the day.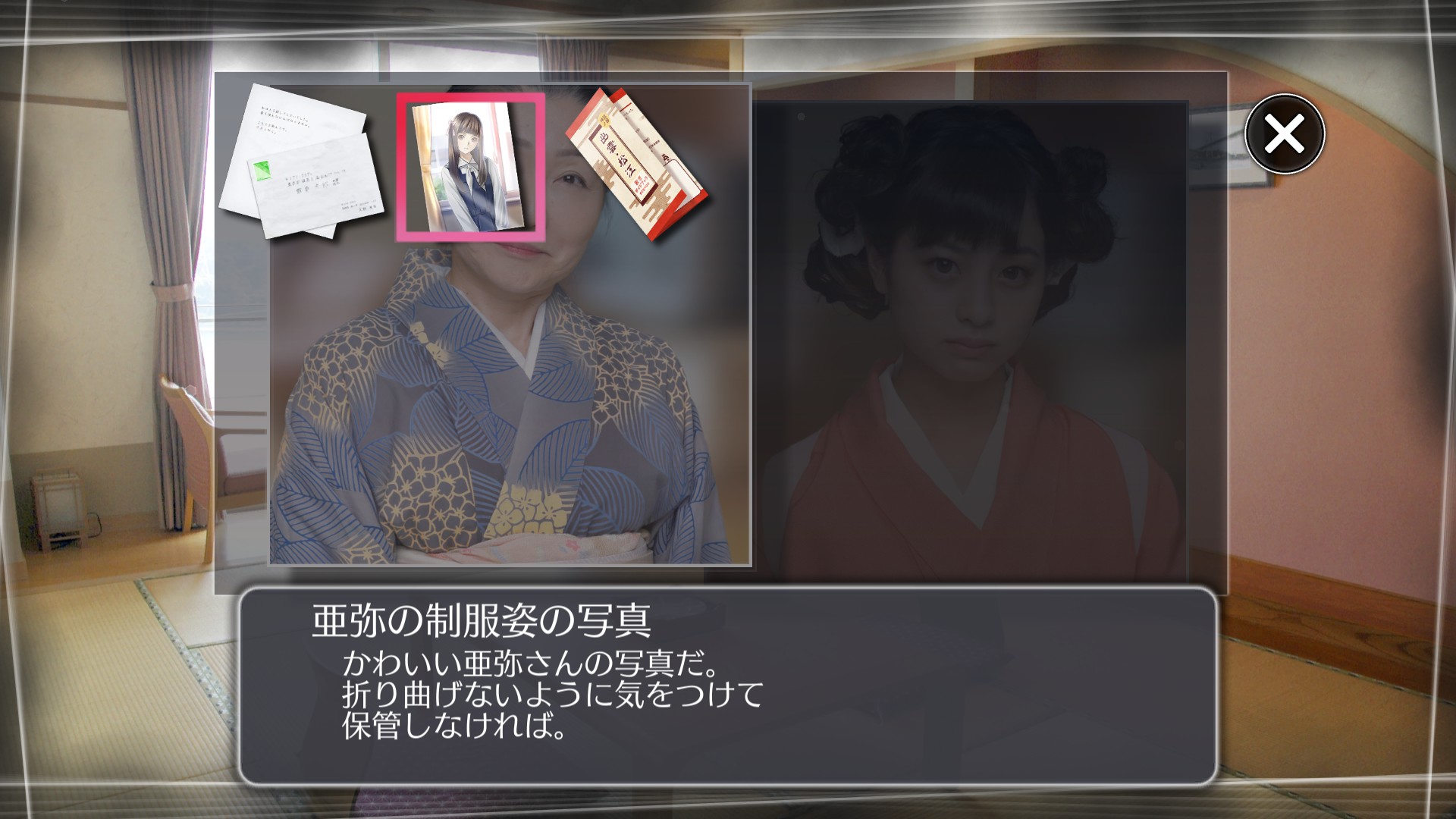 I took about 10 hours to go through the story, but I would highly recommend you play through it twice. The "Last Answer" version of Root Letter added a new function called Drama Mode. This adds live-action characters. The new drama mode is a great way to see the story in an alternate way while replaying for another ending. It also gives you the opportunity to pay more attention to the city itself now that you know all the mystery. I should mention that while playing the drama mode, the character's expressions can feel a bit forced since it's supposed to represent an anime character. For some people that may be a bit off-putting.
There are 5 potential endings that change depending on your choices. While saying exactly how the endings are chosen is a spoiler, I will say your relation with Aya through the letters is important. Added in the Last Answer version are also new scenarios that occur after the game's multiple endings.
I felt like the writing on this game was great and was a big part of making me feel connected to the city and those who live in it. It made me honestly hope for Max to meet the ex-love of his life.
Sound effects are an aspect that I particularly want to praise about this game. In every scene that you enter, there is sound to show that the atmosphere is alive. It is to the point that it can make you feel like you could have been there. It is an amazing part of the experience, but easy to take it for granted in how well it worked to bring Matsue to life. The music is quite simple on this game with not much to talk about, but the sound design more than makes up for it.
The artwork is also amazing, particularly the character sprite which are incredibly high quality. The live-action casting felt on the spot too, allowing for an even easier connection with the characters, as you see the life in their eyes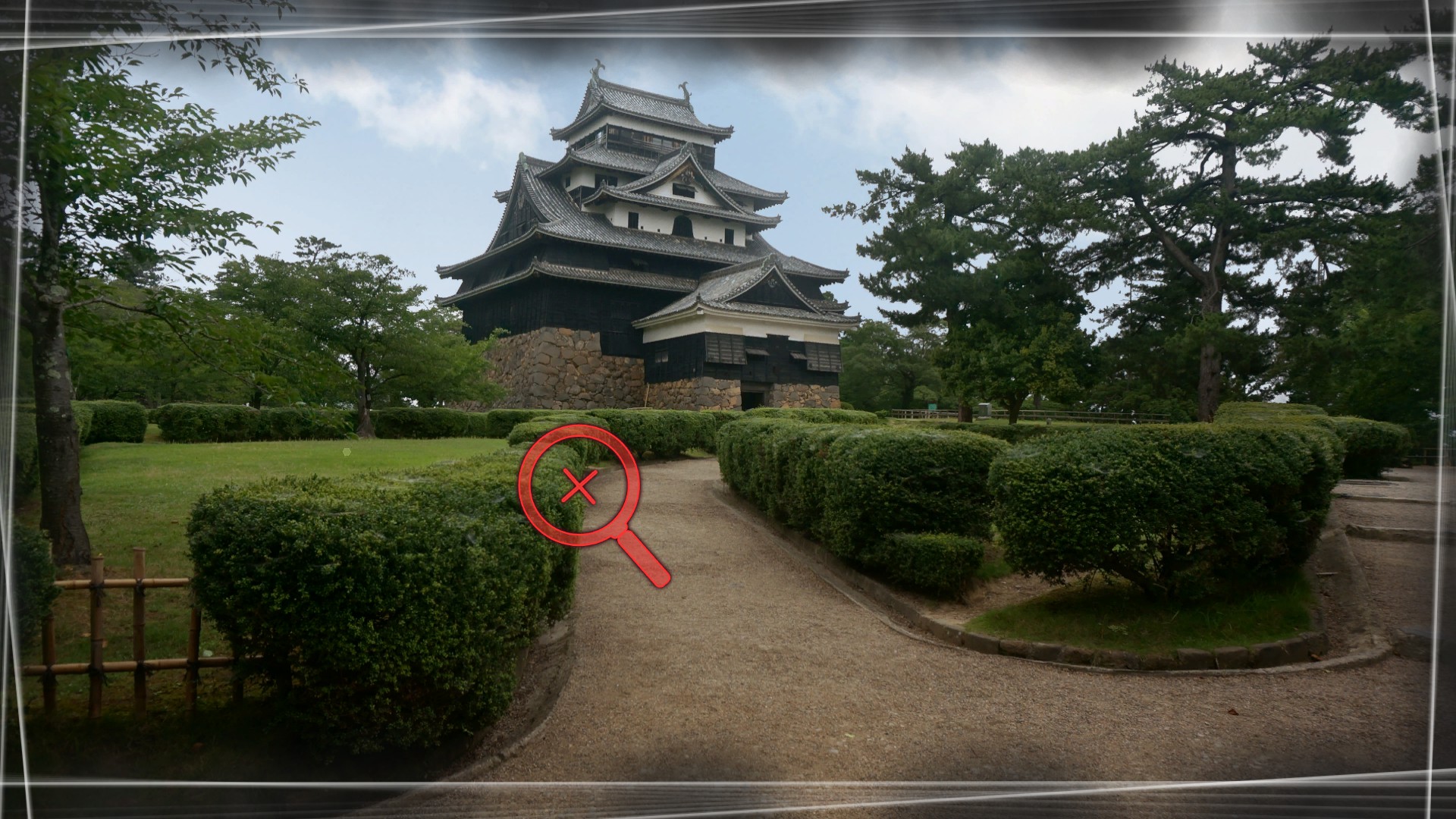 I would recommend this game for any visual novel fan and even some who want to enter in this world and have enjoyed titled such as enjoy Ace Attorney before. It is not a revolutionary visual novel, but for me, it made Matsue come to life and made me wish to visit it one day.
This game can be bought digitally via Steam or the respective console store, as well as physically via retailers such as Amazon (US)/Amazon (UK)
Thank you to PQube for providing a review copy of the game.
Links may contain affiliate codes that help pay for the server and domain costs of the website.
If you'd like to see more articles from us, please remember to follow us on Twitter🐦 and consider turning notifications on. Or type in your E-mail address and click the button for free email updates. You can also come chat with us on Discord.
Support High-Quality And Detailed Coverage
Want to support the cost of us bringing you these articles or just buy us a coffee for a job well done? Click the Ko-fi button below. You can even find some digital goodies in our shop~!
Nick has been gaming for quite a while, a decade now! His first console was the DS but the first one played extensively was the Nintendo 64. He loves a huge variety of games, favourite genres include RPG, platforming, metroidvanias and visual novels. No longer a member of the NookGaming team, but still here in spirit. Follow him on @NickMendz.