Vacation Simulator, the sequel to the well-known Job Simulator is only playable with a virtual reality headset. It's officially compatible with the HTC Vive, Oculus Rift and Windows Mixed Reality. In addition, it unofficially works with the Pimax headset too.
This game is basically a set of mini-games, wrapped up into an incredibly interactive world. There isn't an in-depth story. In short, you are a human experiencing a vacation simulator after your time in the job simulator. This is a world where robots have replaced all human jobs.
Vacation Bot leads you through the various activities you can do on your vacation. While this happens, Efficiency Bot follows her around to measure how well everything works. The world is full of robots each with their own personalities. Many are based on stereotypes and have lines with a lot of humor surrounding this. There is even a parody artist called 'Bob Moss' who says similar lines to the famous artist.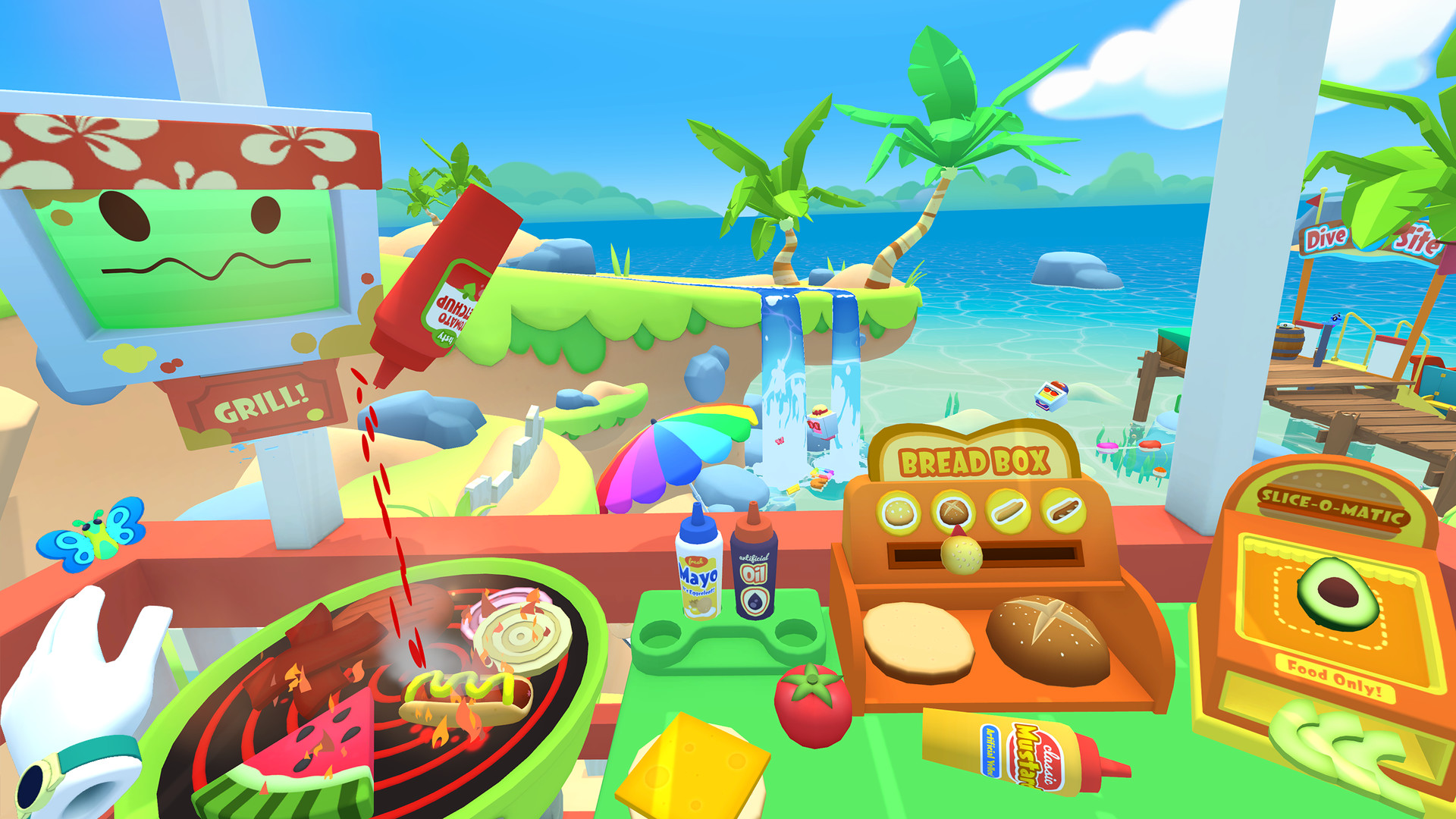 You have three worlds to explore with a variety of mini-games to complete. You can explore the beach, the forest or the snowy mountain.
On the beach, you can build sand castles and have them judged, catch butterflies, play beachball, take photographs of items, cook and more.
In the forest, you can paint pictures, use a slingshot to hit targets, listen to a horror story, catch fish, take photographs of items, cook and more.
On the snowy mountain, you can throw snowballs, catch insects build ice structures and have them judged, take photographs of items, cook and more.
As you've probably noticed, quite a few of these are repeated. While each mini-game is well made and fun to play, the big downfall of the game is that they are repeated or there are very similar versions of the same in other areas. For example, collecting various insects is basically the same in all instances – slowly move towards and grab the insect, then bring it back to the robot. In the case of sandcastles and ice structures you are making a structure from blocks in both instances and following a plan, but you are placing sand blocks together or chiseling ice blocks away which differentiates it slightly.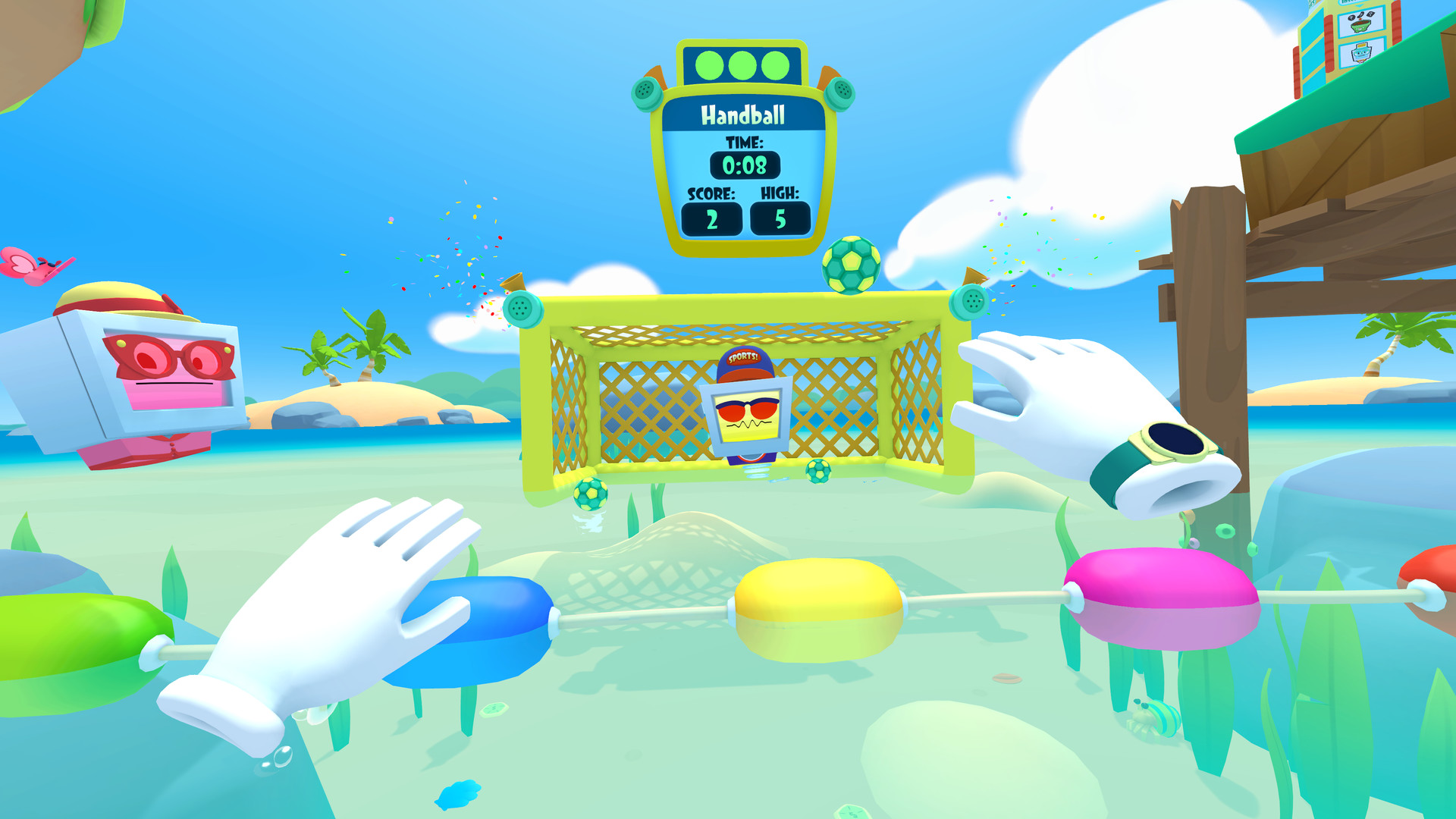 As you complete mini-games, you are given 'memories', which is a currency to unlock an extra area for that world. In the beach world, for example, you can unlock an underwater area where you can find and take photos of rare fish as well as solve a puzzle to unlock a chest for a reward.
As locomotion is always an important topic in VR, I'll explicitly say this is a teleport-only game and acts as if there are invisible teleport nodes so you always end up in the same position when you teleport. This does make it accessible to the majority of people but may restrict people with smaller playspaces from playing as room scale is needed and it is not possible to adjust your position with smooth locomotion without using third-party software such as the OpenVR Advanced Settings plugin.
Outside of locomotion options, Vacation Simulator does accessibility options very well. There's a small person mode so you can adjust the scale of the world to fit a child. Many objects such as cooking stations can be adjusted to be higher or lower too.
Somewhat related to accessibility is how intuitive the game is too. I believe you could drop someone in who has never tried VR and most would be able to figure out how to play within minutes. Each of the mini-games is explained clearly by the robots and you really just need to move the controllers, use the trigger and occasionally wave to interact with most things.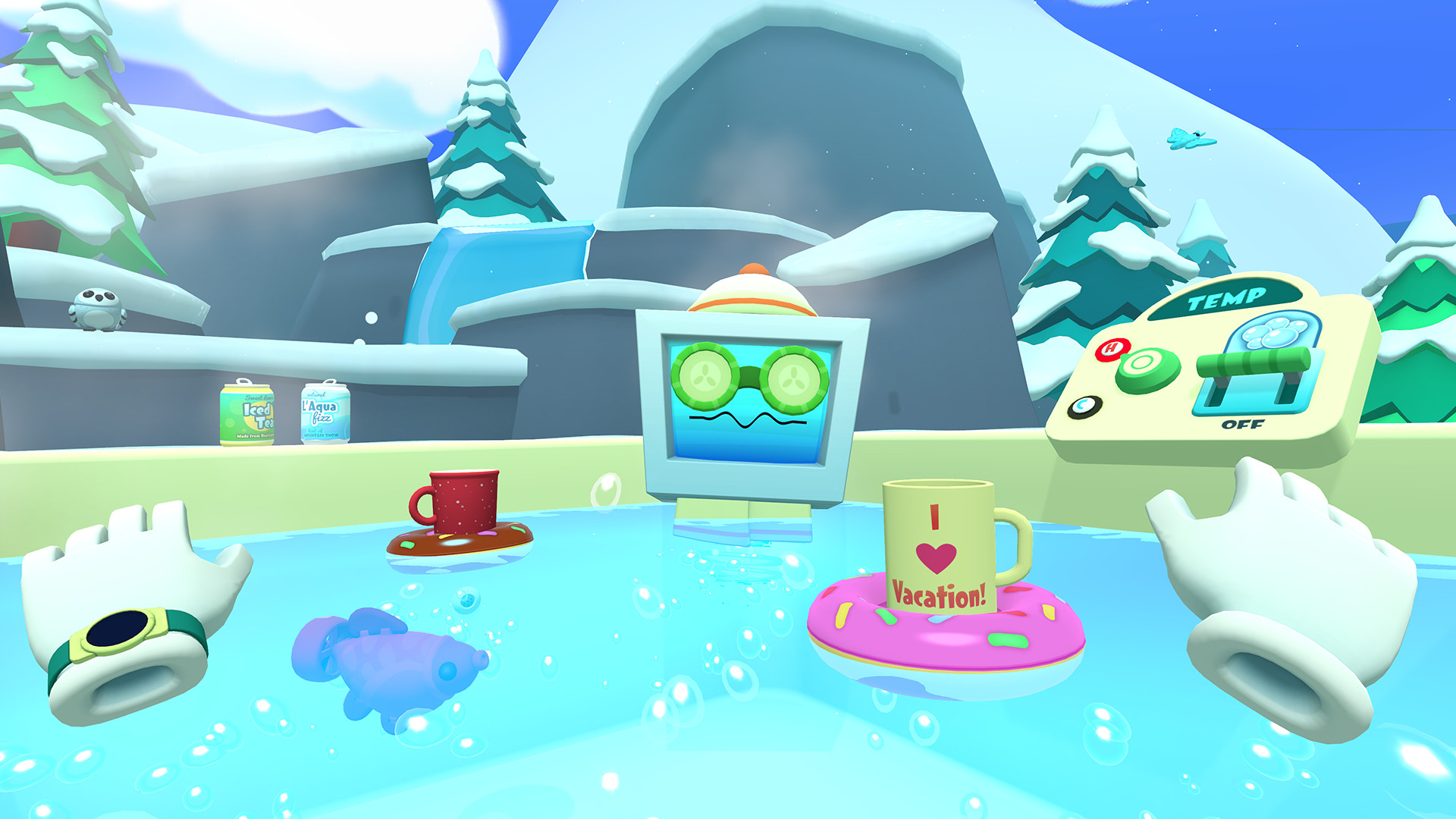 Graphically the game is bright and colorful. It's all fairly simple graphics, but they're done well and the animations are good.
The sound is great in this game. The standout is the voice acting and the way the humor comes through.

This game is basically a playground for VR beginners. It allows them to try a lot of different things if all simplified. Everything is really interactive too and not just in the ways you would expect. Items from one mini-game are sometimes used in unexpected ways elsewhere, so you can experiment with how things interact. I think that children would really love this game the most. Adults will love it too but may find it repetitive a bit sooner. The amount of polish this game has is absurd too. Everything works well together and there are tons of extras which weren't required for the main gameplay, but end up adding to the experience a lot.
I did enjoy Vacation Simulator, but I will note that it is fairly expensive for the amount of time some people may get out of it. If this will be your go-to game for the kids and introducing people to VR, it's a good investment. If you just want to play it through once yourself, it could be an idea to wait for a sale. It does feel like a pity to say that because of the quality of the game, but you can see most content within two hours.
WAIT FOR SALE ON VACATION SIMULATOR
Many thanks to Owlchemy Labs for the review code for this game.
You can buy the game on Steam here.
If you'd like to see more articles from us, please remember to follow us on Twitter🐦 and consider turning notifications on. Or type in your E-mail address and click the button for free email updates. You can also come chat with us on Discord.
Support High-Quality And Detailed Coverage
Want to support the cost of us bringing you these articles or just buy us a coffee for a job well done? Click the Ko-fi button below. You can even find some digital goodies in our shop~!
A gamer since the days of Amstrad and DOS and someone who has dabbled in a variety of professions. He enjoys a wide variety of genres, but has been focusing on visual novels and virtual reality in recent years. Head Editor of NookGaming. Follow him and the website on @NookSite.